Zhejiang Geely Holding Group
Zhejiang Geely Holding Group is split into five core divisions to maximize synergies and improve resource utilization: Geely Auto Group, Volvo Car Group, Geely Technology Group, Geely New Energy Commercial Vehicle Group, and Mitime Group.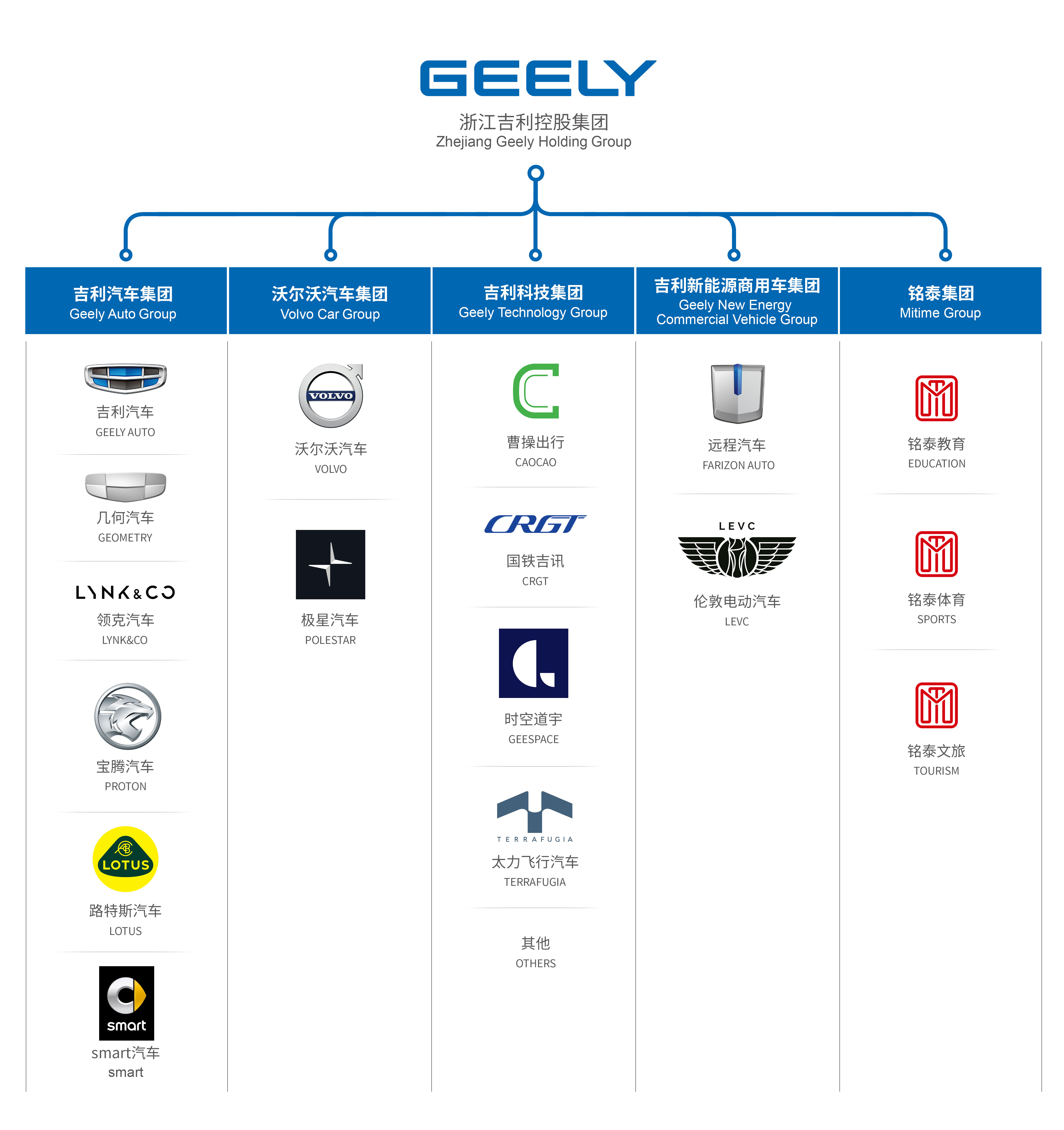 Geely Auto Group
Geely Auto Group is made up of the following brands – Geely Auto, Geometry, Lynk & Co, PROTON, and Lotus.
Volvo Car Group
Volvo Car Group is made up of two Swedish brands, Volvo Cars and Polestar.
Volvo is one of the most well-known and respected car brands in the world with sales in over 100 countries through 2,300 local dealers. In 2018, Volvo Cars sold a total of 642,253 units, the company's fourth consecutive year of record sales. Volvo Cars became part of Zhejiang Geely Holding Group on August 2nd 2010.
Polestar was founded by Polestar Racing, now called Cyan Racing, to explore how the technology behind their multiple title-winning racing success could be applied to Volvo cars on all roads and conditions in everyday life. Volvo Car Group acquired Polestar from Polestar racing in 2015 and in 2017, Polestar became an independent brand focused on high-performance electrified cars. Polestar is jointly owned by Volvo Cars and Geely Holding Group with its own separate management and governance.
Geely Technology Group
Geely Technology Group is a division made up of innovative brands invested in by Zhejiang Geely Holding Group including CAOCAO, Terrafugia, Qianjiang, Joma, and other investments.
The group acts as an incubator for young brands giving them access to Geely global resources.
CAOCAO is a new energy focused mobility services platform invested in by Zhejiang Geely Holding Group. Established in 2017, CAOCAO has already been put into operation in over 20 cities and seen more than 150,000 rides ordered daily. Through the use of new energy vehicles, the platform has reduced carbon emissions by over 300,000 tons and saved more than 150 million litres of fuel compared to the use of traditional taxi vehicles.
Terrafugia is an innovative company founded by five award winning MIT graduates who had the vision and passion to change the way people move about in their environment. Terrafugia's mission is to create the ultimate mobility solution, flying cars. In November 2017, the company joined Geely Holding Group combining Geely's entrepreneurial and innovative spirit with Terrafugia's passion and vision for ultimate mobility.
Qianjiang Motor is one of the largest producers of motorcycles in China and own several renowned brands including Italy's Benelli. They are also known for their lithium battery technology developed for vehicle usage. The company was majority acquired by Zhejiang Geely Holding Group in 2016.
ECARX is an independently operated company strategically invested in by Geely Holding Group. The company is focuses on the two major areas of intelligent cockpits and vehicle intelligence with core business built on artificial intelligence, edge computing, and big data. Intelligent cockpit technologies and products include: 4/5G communication, infotainment systems, voice assistance, natural language learning, cloud service, vehicle microchips, and wearable smart devices. Vehicle intelligence technologies and products include: high-precision maps, cameras, 360°imaging, driving video recorders, and millimetre-wave radar.
Gecent was jointly established by China Railway Investment Co. Ltd., Geely, and Tencent as a three-way collaboration on July 5, 2018. The company is responsible for the construction, operation, and promotion of high-speed rail WiFi with a platform offering users integrated parking services, ride-hailing, WiFi access, mobility services, food delivery, leisure content, cultural content, entertainment, news, information, e-commerce, travel services, smart retail services, etc. Currently, the company's first product, a mobile APP offering the above services is available for use on the new Fuxing high-speed line.
Starrides is a 50:50 joint venture between Daimler Mobility Services and Geely Technology Group headquartered in Hangzhou offering high-end mobility services in select cities in China. The vehicles used by the service will include but not limited to Mercedes Benz S-Class, E-Class, V-Class, Maybach sedans, and high-end pure electric models from Geely Holding Group.
Geespace is a Geely strategically invested innovative technology enterprise. Founded in 2018, Geespace is committed to becoming the world leading provider of satellites, related infrastructure products, and application solutions. The company aims to raise the level of the satellite industry chain and advance the commercialization of aerospace technologies.
Geespace provides highly competitive, secure, reliable customized solutions for satellite networks, satellite data application, and high-precision navigation positioning service. Through the application of innovative aerospace technologies, the company provide support for smart manufacturing, future mobility, big data computing, etc. Geespace creates value for its customers by forming transparent win-win cooperative partnerships and innovating the aerospace industry.
Geely New Energy Commercial Vehicle Group
Geely New Energy Commercial Vehicle Group (GCV) is a new energy commercial vehicle focused division with two core brands under it: The London Electric Vehicle Company (LEVC) and Yuan Cheng Auto.
London Electric Vehicle Company (LEVC) is an English brand with a history of more than 70 years in the production of commercial vehicles, it became a wholly-owned subsidiary of ZGH and placed under Geely Commercial Vehicle Group in 2013.
The brand boasts over 100 sales and after sales centres across 40 countries and regions. ZGH has invested over 300 million GBP in London Electric Vehicle Company in 2015 to develop an entirely new generation of zero emission capable taxi vehicle and a brand new production facility.
This new facility, based in Ansty in Coventry, UK, began production of a new generation of zero emission capable new taxi vehicle in late 2017. By 2019, more than 1,000 zero-emission taxis were on the road across the UK with strong export plans to the European mainland.
Farizon Auto was founded in 2016, focusing on the development of new energy commercial vehicles and has already launched several long range capable truck and bus solutions. The company is developing urban commercial vehicles based around the e-GAPF power systems, and long-ranged commercial vehicles powered by clean methanol fuel. Farizon Auto plans on offering a full range of new energy commercial vehicles including buses, light trucks, heavy trucks, and vans.
Mitime Group
Mitime Group was established in 2004 and is managed by Geely Holding Group.
The Group focuses on diversified investments and operations in the fields of higher education, sports, cultural tourism, and health services. There are more than 40 subsidiary enterprises collectively valued at over 10 billion RMB and employing over 3,000 employees under the Mitime Group. The group is divided into four main divisions, Mitime Education, Mitime Sports, Mitime Tourism, and Mitime Health.
Education has been a core pillar of support in Zhejiang Geely Holding Group's development.
Mitime Education is one of the largest private higher education investment groups in China. The Group has invested hundreds of millions of RMB in establishing universities and colleges across China including the Beijing Geely University, Sanya University, Zhejiang Automotive Technical School, Hunan Geely Automotive Technical etc. Over 50,000 students are enrolled at the Group funded schools and 20,000 graduate each year. Since the founding of the first school over 150,000 talented graduates have entered the workforce.
Mitime Sport is a key area of development for the Mitime Group. The group has organized many sporting events, constructed multiple race circuits in China and abroad, provided high-end sport related support services, and promoted participation in sports. Their mission is to promote sports and healthy living to the public.
Mitime Sports includes Mitime Racing, Mitime Circuits, Mitime Golf, Mitime Sailing, Mitime Endurance Sports, and other businesses. Current they operate tracks in Ningbo, Chengdu, and North America. They have organize the Ningbo International Marathon, China-ASEAN International Marathon, Dragon International Half-Marathon, China Iron Man, and Hangzhou Bay Bicycle Race.