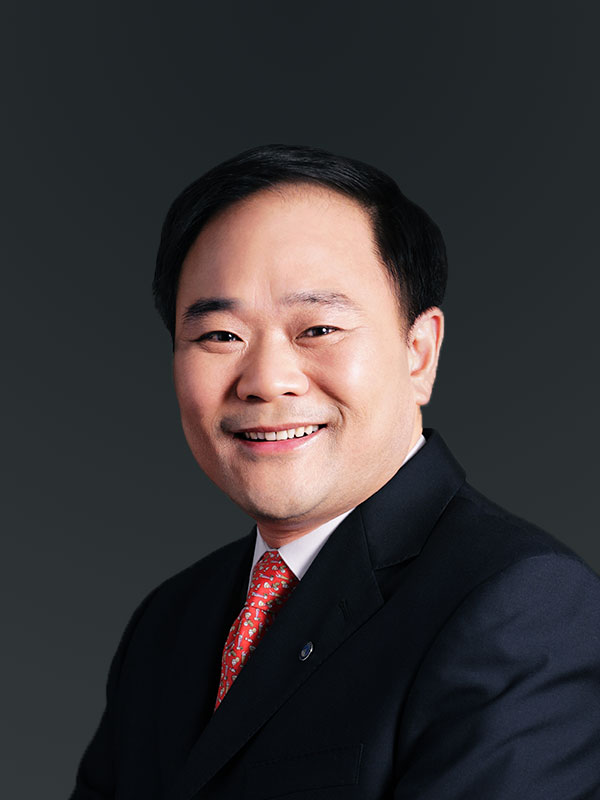 Delivering our Vision in an Era of Change
As 2021 draws to a close and as we prepare to welcome the new year, on behalf of Geely Holding Group's Board of Directors, I would like to extend sincere greetings to our colleagues, customers, partners, suppliers, investors and friends around the world.
In 2021 we faced disruptions linked to the coronavirus pandemic, but Geely has still made progress in a rapidly transforming automotive industry. The past year also marked the 35th anniversary of Geely Holding Group – an era in which we have overcome difficult times, remained true to our goals, invested in innovation, and prioritized sustainable new energy mobility. I want to thank everyone who accompanied us our shared journey towards a sustainable future and a better world.
2021 was a major year for Geely Holding Group.
I am proud of the performance achieved last year across our global portfolio, allow me to summarise.
Geely Auto Group produced and sold more than 1 million vehicles for the fifth consecutive year. The 'Smart Geely 2025' initiative was unveiled and 'Leishen Power' became a global leader for highly efficient power solutions. Our new premium pure electric brand, Zeekr was born, focusing on cutting edge zero emissions products. Lynk & Co has gained more than 600,000 users in its five years whilst rapidly accelerating its growth into Europe, to be followed by Asian-Pacific and Gulf markets. The Geometry brand is beginning to sell more than 10,000 cars per month, showcasing the demand for pure electric vehicles. PROTON has sold more than 100,000 vehicles for three consecutive years, making it the second largest automaker in the Malaysian market.
Lotus Technology has been established as part of Lotus Car Group, which unveiled plans for a new portfolio of pure electric models, securing the future of this historic British brand.
Volvo Cars, made its historic debut on the Stockholm Stock Exchange after achieving record sales growth and committing itself to an all-electric future. The ongoing transformation of Volvo Cars will enable this iconic Swedish company to lead the industry in luxury sustainable mobility, carving a path for others to follow.
Polestar, the ground-breaking high-performance EV brand is preparing for an ambitious expansion plan, building on its presence in 14 markets where it is already recognized for design excellence, extraordinary pace and full commitment to sustainability.
Elsewhere, our new energy commercial vehicle brand, Farizon Auto, has become a sales champion in the new energy heavy and light truck segments in China. The brand has released a new generation of electric small trucks, light trucks, and buses as well as a new and unprecedented smart luxurious electrified semi-truck, the Homtruck.
Other progress in commercial vehicle was also seen at LEVC, which has steadily expanded its global presence in electric taxis and now vans. Sales of the company's electrified vans now account for 30% of annual sales and its launch of the world's first electric camper van welcomed global consumers.
2021 also represented a year of progress for Geely Technology Group, which expanded its material business with Geely's sustainable aluminum mining and smelting operations to provide us with a strategic advantage in lightweight materials. In addition, Lifan Technology has been reorganized within Geely Holding as it explores battery swapping vehicles with success.
In the communications area, Geely's independently developed commercial satellites have reached mass-production status with multiple launches expected in the near future. Our aerospace ambitions also included the inauguration of the first automated composite material production line for commercial UAVs and other general aviation products in China.
All these industrial efforts coincided with an increased commitment to skills, training and continuous learning. This effort has seen Geely establish non-profit education centers and universities across China with more than 15,000 students graduating from Geely facilities in 2021 and many finding employment among Geely. Geely College has completed the relocation of its campus from Beijing to Chengdu and has received strategic support from Peking University. Sanya University has formally been approved to offer master's degrees, while other vocational and applied knowledge schools have been upgraded to undergraduate degree-granting institutions.
We regard education and skills as central to the development of science and technology skills that are relevant to our business. But we cannot achieve this alone. Hence in 2021, we continued to develop our technological ecology system by working with partners in fields such as new energy, vehicle chips, IoV, and autonomous drive, as well as adjacent sectors including low-orbit satellites and mobile devices. Developments in these sectors will confer a competitive advantage for Geely in the future.
But with industrial progress comes responsibility. Our biggest responsibility is to combat climate change and achieve carbon neutrality. As a responsible global corporate citizen, Geely supports the global consensus on reaching peak carbon and achieving carbon neutrality. Our Group has made significant investments in the sustainable development of passenger vehicles, commercial vehicles, shared mobility and innovative green technologies such as battery electric power, ultra-high efficiency hybrid power, sustainable clean methanol power, battery swapping, etc. Today, there are more than 27,000 Geely Auto clean methanol passenger vehicles in operation with a collective operating mileage exceeding 1.2 million km.
Elsewhere in the mobility sector, CaoCao Mobility last year utilized zero-emission electrified vehicles in 62 cities, with trip bookings doubling and user numbers exceeding 100 million. Cumulatively the green ride hailing platform has prevented more than 468,000 tons of carbon emissions from being emitted, as CaoCao became the leading B2C ride-hailing platform in China.
A number of joint projects between Geely and Daimler have started to bear fruit. The high-end mobility service, StarRides, expanded to 10 cities and served nearly a million customers. The smart joint venture brand has unveiled their newest concept vehicle, showcasing the brand's revitalization with new technologies, new products, and a new business model.
In 2021, Geely Holding Group re-doubled its commitment in being a responsible corporate citizen. In a year with several extreme weather phenomena on top of the ongoing Covid-19 epidemic, Geely and its subsidiaries provided local assistance wherever it could such as donating RMB40 million for flood relief in Henan and Shaanxi. The Group also initiated its 'Common Prosperity Initiative' granting employees a deeper stake in the company, improving livelihoods, and help towards achieving their own dreams and happiness.
Our ambitions require effective modern and robust corporate governance. It is the foundation of our sustainable development. In 2021, Geely Holding Group issued the latest edition of its management policy with the goal of building a more sustainable governance structure. Each brand and subsidiary has their own roles and position within the Group that complements each other, reduces risks and supports our collective sustainable development.
We must focus our efforts on progressive change in all these areas in 2022, a year in global scientific and technological innovation will intensify. It will be a year of new breakthroughs and applications, as well continuing challenges.
In the year ahead, we remain true to our values as a global enterprise. We must operate ethically; we must put people first; we must seek win-win cooperation. We must empower our employees to grow through Geely, our customers to be satisfied by Geely, our partners to succeed through Geely and to create "a sustainable future and a better world."
The world is changing around us and customer needs are becoming more diverse and complex. If we want to be the disruptor, we must continue to lay a strong foundation and plan ahead. It requires courage and focus on our core strengths. We will strengthen our technological ecosystem, create sustainable competitiveness for our enterprises, and create new value for our users.
In 2022, the world will still be in the midst of turbulent change. But the trend towards sustainable development has not changed. The fundamentals for long-term growth have not changed. And opportunities are still all around us. In this regard, we must stay true to our vision, stick to our convictions, take responsibility in combating climate change and achieving carbon neutrality, empower the development of innovative new technologies, and pursue common prosperity for all.
As the sun sets on one year and rises on another, I take pride in what we have achieved. I sincerely wish everyone a happy and peaceful New Year. I hope the pandemic will subside and that 2022 will be a healthier year for us individually, collectively and as an industry.
Best Regards,

Eric Li (Li Shufu), Chairman of Geely Holding Group.
Geely Holding Group Chairman Eric Li (Li Shufu) 2022 New Year Message, published 31st December 2021.