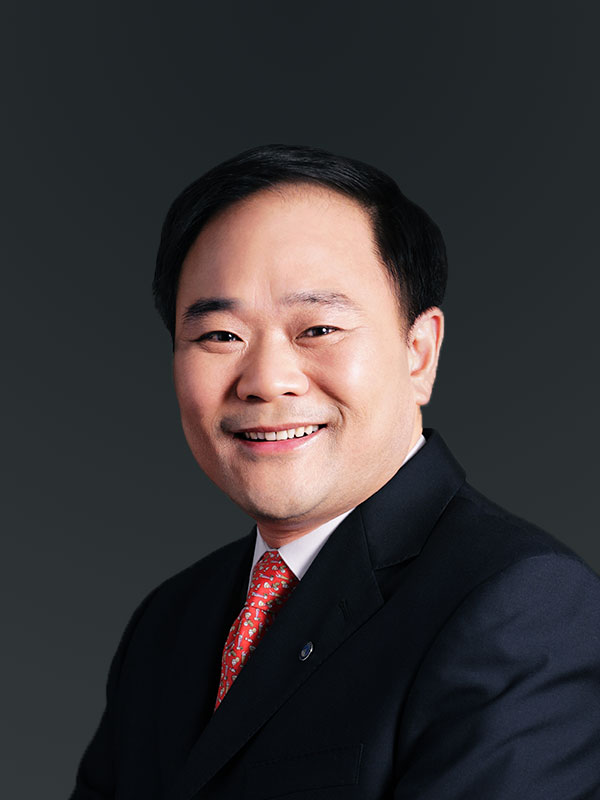 Staying True to Form in an Ever-changing Market
In the past, we have planted the seeds we needed to grow as a Group, now it is time to reap what we have sown. The trials and tribulations of 2019 will soon pass and the opportunities and challenges of 2020 will arrive. As we leave behind the old and welcome the new; on behalf of Geely Holding Group's board of directors, I would like to wish a very happy new year to all those who have supported the Group's global development, including leaders from across the globe, as well as all of our global employees and of course, all our users and partners.
2019 was the 70th anniversary of new China; this year, we have seen that China has deepened its commitment to reform while opening up to global markets and has focused heavily on implementing an innovation-driven development strategy, which has allowed for a new momentum and spurred on high-quality economic development, all of which brings greater opportunities for the global economy.
In 2019, we have also seen a once in a lifetime revolution that has begun to take shape with the global automotive industry at the forefront; the rise of new electric automotive brands, and further reorganization and restructuring will lead to a new industry hierarchy being formed, which without a doubt will cause a baptism of fire for the Chinese automotive market.
2019 was an important year for Geely Holding Group as it continues to further its globalization, promote technological transformation and gradually transform from being a traditional automobile manufacturer into a mobility service provider. As Geely Holding continuously faces the dual pressures of economic and industrial adjustment, we remain committed and steadfast to our strategy of following consumer trends, surpassing benchmarks and using them as pivots to make key breakthroughs, whilst continuously cultivating global talent, improving internal synergies and pushing for success. We have full confidence in our technologies, products, brand and corporate culture, which will allow us to continue maintain our pace of high-quality development.
The Geely Holding Group family of automotive brands now includes Geely Auto, Lynk & Co, Geometry, Volvo Cars, Polestar, PROTON, Lotus, LEVC, and Farizon Auto. Collectively, they have all strived to maintain brand independence with coordinated development. Each of our brands actively participate in the market based on their individual brand positioning and focused consumer groups. At the same time, we encourage our brands to foster and develop synergies in core technological R&D, infrastructure development and other aspects in order to maximize the utilization of Group resources and create greater value and experience for the end user.
In 2019, Geely Holding Group became the official partner of the 19th 2022 Hangzhou Asian Games. Geely will empower the Asian Games with technology that showcases personal and forward-looking mobility solutions. This year, Geely Auto's vehicles continue to impress with high-quality, high-tech and high value solutions. For three consecutive years, Geely Auto has achieved production and sales of over 1 million units annually, becoming the leader of Chinese automotive brands. With the launch of our high-end pure electric brand, Geometry, the three major brands of Geely Auto, Lynk & Co, and Geometry, entered an era of coordinated development. Lynk & Co has become the representative of "China Speed" as it won the WTCR World Touring Car Championship in its first year of participation – achieving a historic milestone for Chinese car brands in global motorsport competitions and opening a new chapter for the development of motorsports in China.
Scientific and technological innovation is the means by which enterprises progress and develop. Geely Holding's decade long 100 billion RMB investment in R&D has achieved great results. In 2019, Geely Auto continued to make breakthroughs in new energy, autonomous drive technology and smart connectivity. Geely Auto has the largest market share of mass-produced models equipped with Level 2 intelligent drive technologies. The GKUI Geely smart ecosystem gives China the lead in intelligent vehicle connectivity services, essentially turning vehicles into mobile 'super brains', as they are taken into the intelligent era. At the same time, the field of new energy vehicles is multi-dimensional and offers users a green, intelligent and personal mobility experiences.
In 2019, Volvo Cars has established a strong industrial layout in the three major markets of Europe, Asia-Pacific, and in the Americas.
Volvo has released their E.V.A. Initiative to develop safe cars for all, a 2040 Environmental Plan, as well as their first pure electric SUV, the XC40 Recharge. Over the next five years, Volvo plans to launch one new pure electric model each year. This year, Volvo sales are double of what it was in 2010, with China sales increasing five-fold in the same period. Volvo's Asia-Pacific HQ, Volvo's first brand experience center in Asia, and Volvo's first battery R&D center in China have been completed, placing the Chinese market at the center of Volvo's global development.
In 2019, Polestar has made major steps with the launch of its Polestar 2 model and bringing its first global production plant in Chengdu online. Polestar will continue adhering to its brand concept of being pure, progressive and high performance, showcasing the new possibilities of luxury electric vehicle development.
This year has also been one of rapid growth for Geely Commercial Vehicle Group. The Farizon Auto brand released the world's first M100 methanol heavy truck, the F12 hydrogen fuel cell bus, the pure electric C11 bus, and 5G equipped smart buses. Over 3000 TXe electric taxis have been produced at LEVC's green Coventry plant in the UK with substantial exports of the zero-emission taxi being made to France, Germany, Norway and other countries. The technology used in the LEVC eTX model has made important contributions to Sino-British automotive industry cooperation and exchange, as well as being a flagbearer for domestic British technologies.
The historic trend of economic globalization is irreversible. In 2019, Geely Holding has actively participated in the Belt and Road Initiative; the Group has achieved remarkable results in its global development, strengthening cooperation and relations between China, Europe, and Malaysia. The Group's R&D and design network has expanded globally. PROTON, Lotus, and LEVC are all experiencing a new global renaissance. The brands under Geely Holding continue to strengthen their cultural integration, talent integration, technology integration and seek new synergies.
This year, we have agreed on a joint venture with Daimler to operate and promote the transformation of the smart brand on a global basis as one of the first joint ventures of its kind. Geely and Daimler are committed to developing smart into a world leading intelligent and premium electric car brand.
This year, sales for PROTON have reached 100,000 units and after three years, it has returned to second place in the Malaysian market. The localized production of the Proton X70 and the establishment of a technology joint venture has opened up a new era of intelligent connected vehicles in Malaysia that drove new development in the Malaysian automotive industry.
As an automotive pioneer with a history of over 70 years, Lotus has returned to glory in 2019. Five Lotus showrooms in China have been built and the first British pure electric hypercar has toured the world with great praise.
In 2019, Geely Technology Group's various innovative businesses have begun to show results. The group's digitalization has further advanced, the integration of land and air mobility continue to see progress and the realization of the three-dimensional travel ecology steadily approaches. Our CAOCAO ride hailing service, available in 50 cities in China, was ranked first in B2C market share and begun its global push, starting with Paris, France. StarRide, a high-end ride hailing joint venture with Daimler has been launched in Hangzhou. Air mobility has also become more diversified. Volocopter, which we've jointly invested in with Daimler, successfully carried out manned test flights in Singapore. The development of Geely's satellite technology company is progressing smoothly. This series of technological advancements will make future travel safer, more environmentally friendly and far smarter.
Education to Geely is both a responsibility and a passion. It comes from our devotion and desire to improve the world around us. Tailored to local conditions, education investment provides the talent necessary for the development of Geely enterprises and wider industries. In 2019, based on the thinking that students study to become better prepared for society, Geely's subsidiary company, Mitime Education, has relentlessly moved to improve the quality of its schools and raise the level of its education, allowing the schools to grow and lead its students to realise their dreams.
In 2019, Geely Holding Group continued its 'Geely Timely Rain' targeted Poverty Alleviation Project. Together, we have helped more than 4,500 households across China, finding employment for over 1,200 people and launching 31 agricultural projects in partnership with local government organizations, as well as with the help of our warm hearted Geely employees. Since starting the project, the effects have radiated through over a million households across poverty-stricken areas in China.
The next decade will be a crucial time for the world economy. A new round of scientific and technological revolution will take place; artificial intelligence, big data, quantum computing, biotech, etc. will change industries, giving birth to new paradigms and business models. Disruptive technologies will bring earth-shattering changes to global development, productivity and people's lives. These changes will sweep across the automotive industry and the wider transportation sector.
We must take the initiative to welcome the four modernizations within the automotive industry – Electrification, Intelligence, Connectivity and Sharing of automobiles, which will become common place. We must continue to lead vehicle development through constant innovation – we will be able to create new strategic advantages through integration of both online and offline services and by joining forces with global partners, we will be able to occupy the commanding heights of technology through greater collaboration and sharing, ultimately creating a sustainable three-dimensional mobility ecology for the future.
To achieve high-quality development on a global basis, we must be open, inclusive and cooperative. With a strong footing in China, we must look out to the world. In 2020, we will continue to promote the strategy of globalization, push development along the Belt and Road program, push for deeper integration within the global automotive industry, achieve true synergies and create a win-win situation for all.
We must firmly grasp the essence of endurance in this ever-changing market. This is the cornerstone that will allow us to develop long-term advantages throughout the oncoming storm, allowing us to become globally-competitive and technologically-innovative.
In the New Year, we must always adhere to the law and regulations governing company operations in all countries and territories in which we operate and pay attention to compliance, rules and laws. This is the core aspect of a healthy sustainable development.
In the New Year, we must continue to promote technological innovation and continue to carryout cross industry benchmarking in order to sustain the vitality of our business and maintain competitive advantages. This will always be the engine of our development.
In the New Year, we must pay attention to future talent; the recruitment of talent and their cultivation into global talent. We must always help to grow the small saplings into becoming strong trees with deep roots – they will become our source of strength.
In the New Year, we must stay committed to putting the user at the center of everything we do whilst improving quality and providing good customer service. Customer satisfaction should always be our ultimate goal.
We must be firm and confident, always strive together, forge ahead and steadily advance. A promising future will await you together with Geely.