Geely's battery swapping technology like you've never seen it before…
Battery swapping, but on a larger scale
By using a combination of pure electric heavy goods vehicles, including cement mixers and standard semis, Geely hopes to make typically messy industries, like construction and logistics, greener.
While the trucks here may look run-of-the-mill, behind the driver's cabin is a large black box which contains the battery cells and housing in one secure package. The cement mixers currently using the service use a battery that can store up to 280kw/h of power, around 3-4 times that of a standard consumer EV, giving the trucks around 190km of pure electric range while also powering other functions such as the mixing of cement.
5 minutes is all it takes
Previously we saw Geely's battery swap stations for consumer vehicles lift the car so that the battery can be swapped out from underneath the vehicle. In a 31-ton vehicles, however, this causes problems. The battery pack located behind the cab is designed so that it can be accessed quickly and safely from the top; a crane located above the vehicle comes down and hoists the 3.2-ton battery up and in to the battery warehouse, where it is swapped out with a new one.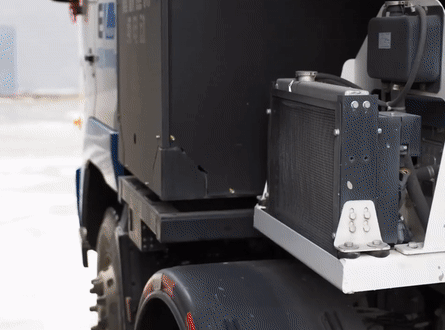 To begin the process, drivers first use wheel guides to make sure the truck is located correctly. Then, the driver will present a QR code to a sensor to begin the completely automatic process. From start to finish, the battery swapping of these trucks takes around 5 minutes, a similar amount of time taken to refuel using traditional methods.
Smart, efficient, economical
So, what are the advantages to a station like this? Not only do they use roughly the same amount of time as refuelling using gasoline or diesel, but they are also cost-effective – the cost per 100km of operating these pure electric trucks is around 30-40 yuan ( around 5USD).
The stations themselves are relatively space-efficient, using around 200 square feet and, thanks to their modular buildup, can be constructed quickly. This makes them a great solution for densely-populated urban areas, and also as an alternative to charging stations, which require more from local infrastructure. Solar panels on top of the station provide energy for some of the stations' operations.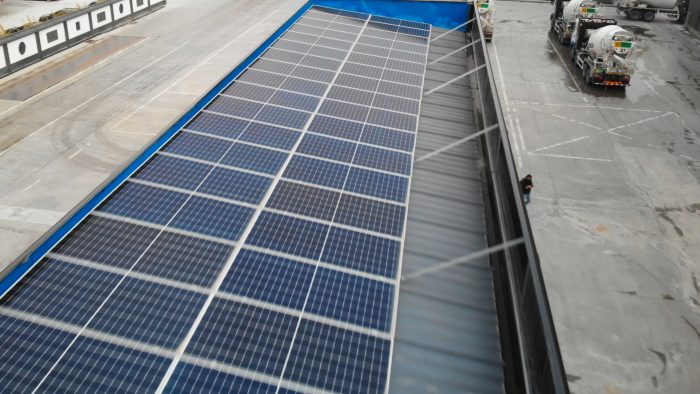 At any given time, there only needs to be 8 battery packs in these battery swapping stations – through the use of smart battery management and rapid charging (batteries here will go from 0-100% in 1 hour), a fully charged battery will always be ready and at present a single stations can support up to 50 vehicles.
Cleaner, greener industry