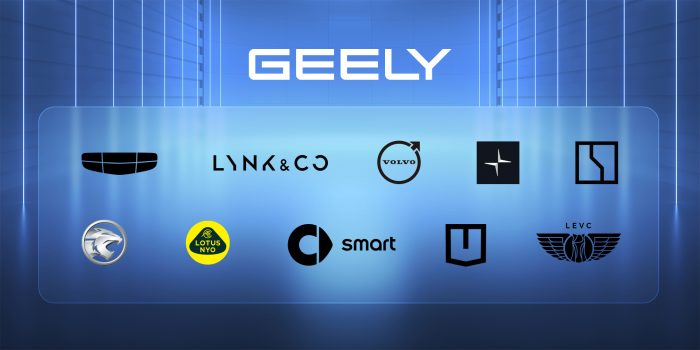 Group sales of electrified and clean alternative fuel vehicles doubled to more than 675,000 units, representing 29% of aggregate sales.
Growth across brand portfolio driven by demand for new energy vehicles.
Continued global expansion and pivot to electrified vehicles supports further growth at Geely Auto.
Share of fully electric Volvo Recharge models triple to 10.9% as Swedish brand continues its electric transition.
Proton ends 2022 with fourth consecutive year of growth.
Geely New Energy Commercial Vehicles achieves record sales following expansion of global presence in 2022.
2022 January 16th, Hangzhou, China. Zhejiang Geely Holding Group (Geely Holding) announced today that aggregate sales across its automotive brands – Geely Auto, Geometry, Livan, LYNK & CO, Zeekr, Volvo Cars, Polestar, Proton, Lotus, smart, Radar, LEVC, and Farizon Commercial Vehicle – grew 4.7% year-on-year to exceed 2.3 million units in 2022. For the fifth consecutive year, Geely Holding recorded more than 2 million units in aggregate sales.
Pioneering a Sustainable Future
The Group has seen sales of electrified and clean alternative fuel passenger and commercial vehicles nearly double year on year, exceeding 675,000 units and accounting for 29% of Group aggregate sales.
The improved sales performance coincided with the Group's continued focus on electrification, next-generation technologies and synergies in sustainability.
During 2022, the Group also signed an agreement with key European partners to share technology and achieve greater operational efficiencies.
Unit Sales by Brand
Geely Auto, the  Hong Kong-listed holding company (HK.0175) that  includes Lynk & Co, Geometry, Livan, and Zeekr, reported 2022 sales of 1.43 million  units, an approximately 8% YoY increase. Sales growth was driven by the company's  expanding global presence and electrified vehicle sales. Exports to overseas markets increased 72% YoY to 198,242 units. In the new energy and electrified vehicle segment (including BEVs, PHEVs, and HEVs) the company saw unit sales more than double to 354,471 units.
Lynk & Co, Geely Auto Group's premium brand delivered 180,127 vehicles globally to its users in 2022. Since its inception, the brand has delivered more than 800,000 vehicles, setting new records for growth among automotive brands. In Europe, Lynk & Co continues to expand through its innovative subscription business model, growing 145% to more than 180,000 members in 2022. In addition, the brand has accelerated its global expansion by entering new markets in the Gulf and Asia-Pacific, starting with Kuwait.
Geometry, Geely Auto Group's mass market pure electric brand launched of two new models. Globally, the brand has begun to find success with its sub-compact SUV, the Geometry C and expanded into new markets in Eastern Europe and South America. In 2022, Geometry saw its sales grow 170% YoY to 149,389 units.
Livan, Geely Auto Group's dedicated battery swapping electric vehicle brand saw sales of its consumer battery swapping models reach 56,140 units in the brand's first year of sales.
ZEEKR, Geely's electric mobility brand, completed its first full year of sales by exceeding its  target of 70,000 units. By the end of 2022, 71,941 premium Zeekr 001s have been delivered to users. Zeekr unveiled its second model and the world's first fully electric luxury MPV, the Zeekr 009. In 2023, Zeekr aims to nearly double its sales and begin its expansion into European markets.
Proton Cars, of which Geely Auto Group controls 49.9% in partnership with DRB-HICOM, recorded its fourth consecutive year of growth with a 23.3% YoY increase in sales. The Malaysian national brand maintained its number-two position in its home market  as it continues to execute its ambitious strategy to become a top three automaker in the ASEAN region.  The brand saw exports grow in 2022 to 5,406 units, a 79.1% YoY increase.
Lotus Cars' transformation continued in 2022 as sale of the brand's first electric SUV, Eletre began. Customers also begun to receive deliveries of the storied sports car brand final internal combustion engine model, Emira. In 2023, Lotus is preparing to celebrate the brand's 75th anniversary by accelerating its global expansion. In addition, Lotus has entered the New Year with a strong order bank for its two newest models, the Emira and Eletre.
Volvo Cars transition to full electric continued in 2022. For the full-year, Volvo saw its unit sales reach 615,121 vehicles with share of fully electric vehicles rising almost threefold to 10.9%. Demand for Volvo products remained robust in spite of challenges from supply chain issues, component shortages, and Covid-related lockdowns. Significant progress in the digital transformation of the Swedish brand was seen in 2022 with subscriptions increasing 49% YoY and online sales increasing 17% YoY.
Polestar, the Swedish electric performance car brand, completed its IPO on the NYSE in 2022 and delivered on its target to sell 50,000 vehicles globally with estimated full year volume reaching 51,500 cars, up approximately 80% YoY. The brand also unveiled its first electric performance SUV, the Polestar 3.  In 2023, the brand anticipates global sales volume will increase nearly 60% to approximately 80,000 cars, led by strong Polestar 2 sales and first deliveries of the Polestar 3 model.
smart, the joint venture urban mobility brand between Geely and Mercedes launched its first all-electric SUV, the smart #1 in April and began deliveries in September. In its first quarter of sales, the highly anticipated smart #1 has already been delivered to over 10,000 customers in China. Marketing and sales centres across Europe and South East Asia have been established to facilitated expansion of the brand into new markets in 2023.
Farizon, the commercial vehicle brand under Geely New Energy Commercial Vehicle Group saw its sales increase by more than 55%. The brand has maintained its position as the market leader for new energy light trucks in China and started exports to Middle East and South American markets in 2022. Farizon also unveiled its vision for the future of electric commercial vehicles with its SuperVAN, a highly customizable drive-by-wire electric commercial vehicle platform and Homtruck Cabless truck, a pioneering autonomous driving application supported by advanced sensors and AI technologies.
LEVC continues its return to growth in 2022 as the British electric taxi and commercial van maker expands its presence globally. Over 2022, the brand saw sales of its electric range-extended TX taxi and VN5 vans grow roughly 67%. The brand has also announced its intent to grow beyond high-end taxi manufacturing to become a leading zero-carbon mobility technology company. In 2023, the brand aims to grow 20% delivering deliver smart, green, safe and accessible mobility solutions to more people around the world.
Outlook 2023
Geely Holding anticipates increasing demand for electrified and clean alternative fuel vehicles in 2023 across its brands, pushed by strong growth in electrified models, an easing of supply chain issues, and the end of Covid-19 related disruptions.
Among the Geely Holding's subsidiaries, Geely Automobile Group (HK.0175) has set a sales target of 1.65 million units for 2023, an increase of roughly 15% of its 2022 total sales. Zeekr aims to double its sales of premium electric vehicles and expand to European markets in 2023. Polestar anticipates its global volumes will grow to 80,000 electric vehicles in 2023, a roughly 60% increase from its 2022 sales. Geely New Energy Commercial Vehicle Group expects to increase sales of clean electrified and alternative fuel commercial vehicle to 150,000 units in 2023.