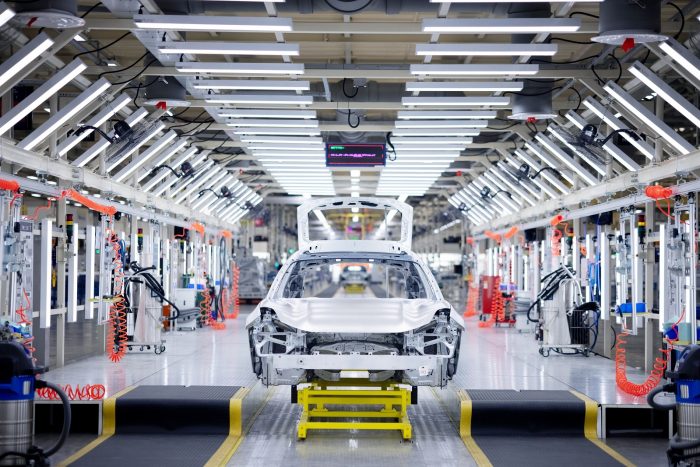 Say goodbye to dull EV's as the most exciting EV in a generation arrives
World's most advanced vehicle factory comes fully online
Customer deliveries to begin within days
2021 October 19th, Ningbo, China. The most anticipated electric vehicle of the year has entered into production. The first production-ready ZEEKR 001 rolled off the production line earlier today at a special ceremony in Zeekr's Intelligent Factory in Ningbo, China.
THE INTELLIGENT FACTORY // It corrects itself. If required.
The Zeekr Intelligent Factory is one of the most advanced vehicle facilities created to date thanks to a 5G+ system that allows for agile and transparent production management.
Areas such as the welding section are fully automated with over 300 robots carrying out the work, with limited human intervention thanks to the factory utilizing an industrial grade 5G+ intelligent internet system that allows production to be planned, tracked and checked in a fully transparent manner.
In addition, the Zeekr production process allows for continuous self-optimization, ensuring the quality of each Zeekr product. For example; the welding production line adopts monitoring systems such as glue application visual guidance, online measurement, and ultrasonic self-inspection, and uses intelligent self-adaptation for welding control to continually improve the welding process.
PRODUCT UPGRADES // You spoke, we listened.
Since the unveiling of the Zeekr 001 in April 2021, Zeekr has continually listened to feedback from users who have seen and tested the 001 at experience centers or have taken part in real world testing on city roads, or even in the mountains and deserts.
As a result, the production Zeekr 001 has been upgraded in several areas to reflect on those suggestions raised by end users. Zeekr is also working on the first Over-The-Air Updates to further improve the Zeekr Assisted Drive (ZAD) system to give users the best mobility experience even after the first deliveries. The car will keep updating to adapt to the newest software technologies. This is an intelligent vehicle in its true form.
INTRODUCING THE 001 // It's Good.
The Zeekr 001 was first unveiled in April 2021 prior to the Shanghai Auto Show. Based on Geely Holding Group's Sustainable Electric Architecture (SEA), the vehicle is able to create 400kw of power with max torque of 768Nm through a twin motor system capable of sending the 001 from 0-100kph in just 3.8 seconds and from 100-0 kph in just 34.5 meters.
The 100kWh Z-Battery is able to charge from 10% to 80% within 30 minutes.
DELIVERING THE PROMISE // We're Coming.
First deliveries of the Zeekr 001 are expected to happen on 23rd of October, 2021 in the Zeekr Intelligent Factory and through Zeekr Experience Centers and Zeekr Spaces across China. By 2021, Zeekr will open two experience centers in Hangzhou and Shanghai. Hangzhou and Tianjin Zeekr Space's opened last month with 10 more to come online within weeks.
Zeekr will open ultra fast 360Kw charging stations in 10 cities by the end of 2021. 272 Cities will also have third party charging stations available for users. Zeekr is always committed to creating the best user experience for existing and future users.