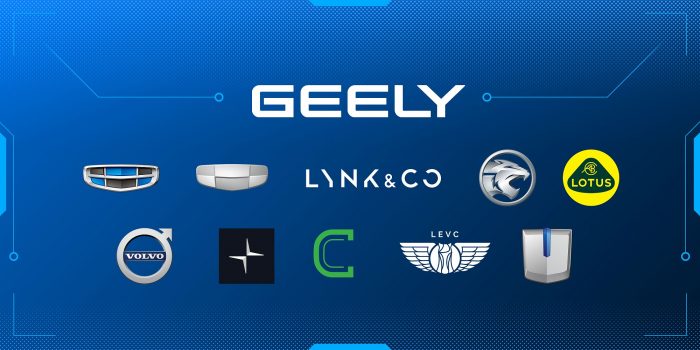 Geely portfolio of brands maintains momentum through a global market downturn in 2019
Volvo Cars passes 700,000 sales milestone for the  first time in the company's 93-year history
PROTON revitalization is well under way as the Malaysian brand returns to second in the market
LEVC continues to rise with record sales and accelerated global expansion
2020 January 13, Hangzhou , China. Zhejiang Geely Holding Group (Geely Holding) announced today that aggregate sales across its three automotive subsidiary units – Geely Auto Group, Volvo Car Group and Geely New Energy Commercial Vehicle Group– reached over 2.178 million units in 2019. Despite a global market downturn, brands under Geely Holding maintained their momentum through 2019. New energy vehicles saw especially strong growth with 167,507 green passenger and commercial vehicles sold by Geely Holding brands in 2019, a 50.6% increase from the previous year.
The brands managed under Geely Auto Group, including Geely Auto, LYNK & CO, Geometry, PROTON, and Lotus found stability in a challenging market environment throughout 2019. The Group maintained a balanced product development matrix with SUVs and crossovers making up slightly above 50% of all vehicles sold, while sedans and MPVs made up the rest. At the same time, Geely Auto Group's combined sales of electrified vehicles, including pure electric, plug-in and mild hybrid vehicles grew by 68.5% to 113,067 units, showcasing the Geely Auto Group's commitment to providing green vehicles.
In spite of a downturn in China's automotive market, Geely Auto's Hong Kong listed holding company including Lynk & Co and Geometry reported 2019 sales of 1,361,560 units. Over the past 12 months, the Geely Auto brand saw its market share grow and retained its position as the best-selling Chinese brand for the third consecutive years. Over the past five years, Geely Auto has become leaders on the product and sales level. In the next five years, Geely Auto aim to become leaders on the brand and technology level.
Geely Auto Group's premium brand, Lynk & Co second full year of sales reached a new high of 128,606 units, an increase of 6.4% YoY. Lynk & Co's improving sales during a global economic downturn shows that the market has fully affirmed the strength of the brand and its products. In 2020, the brand will officially enter the European market, opening up a new chapter in the Group's global development.
In 2019, Geely Auto Group launched its standalone high-end pure electric brand Geometry and its first model, the Geometry A. The brand has committed itself to launching a new pure electric model every year and is preparing to launch their second model codenamed GE13 in 2020.
PROTON Cars managed under Geely Auto Group as part of a 49.9% partnership with DRB-HICOM saw significant progress in their revitalization with the brand returning to second place in their market with total sales of 100,821 units in 2019, a 55.7% YoY increase. The Malaysian national brand's success was fueled by the popularity of their Proton X70 SUV based on Geely Auto's best-selling Bo Yue model (X7 Sport and Atlas in global markets) and their newly updated lineup.  Local production of the PROTON X70 is set to begin in 2020 along with the launch of new jointly developed models.
Lotus Cars concluded a landmark year in 2019 with strong sales performance in key markets and a 12% revenue increase year on year. Japan became the sportscar maker's biggest global market in 2019, with sales growth of 4%, followed closely by the UK and the USA, with Germany, Italy, UAE and China also making up key top ten markets for Lotus.  The year also saw Lotus introduce the new electric Evija hyper car to international acclaim as the world's most powerful production car, and make significant investments in facilities at the company's UK HQ and internationally in operations and in developing the global dealer network.
Volvo Car Group once again set a new global sales record in 2019, breaking the 700,000 sales milestone for the first time since the company was founded in 1927. Since joining Geely Holding Group, Volvo brand sales have doubled. The company's global sales rose 9.8% to 705,452 cars in 2019, compared with the same period the year before, with solid growth in all markets globally. The brand saw strong demand for its electrified products, registering 45,933 hybrid models in 2019, a year-on-year increase of 22.9%.
Polestar, Volvo Car Group's electric performance brand established in late 2017, has opened its dedicated manufacturing plant in Chengdu which will produce the hybrid Polestar 1. Global delivery of the highly anticipated hybrid GT coupe starts in 2020. Polestar 2, the brand's mass-market pure electric coupe crossover was unveiled in 2019 and has begun to accept pre-sale orders with production set to begin in early 2020.
Geely New Energy Commercial Vehicle Group, established in 2016 as a strategic addition to Geely Holding's portfolio, has quickly expanded its product line-up through its Farizon Auto and London Electric Vehicle Company (LEVC) brands. The commercial vehicle unit is steadily expanding globally by forming strategic partnerships and opening new markets for its green commercial products.
In 2019, Farizon launched several green commercial vehicle models including the world's first M100 methanol heavy truck, hydrogen fuel cell buses, 5G equipped pure electric city buses, and ranged extended light trucks. With a robust product portfolio, Farizon Auto has begun its global expansion signing strategic partnerships in Thailand and Korea.
LEVC unveiled its new range extended zero emission capable light van due for launch in Q4 2020 and continued to grow export sales of its new TX taxi and shuttle variant. In the second full year of sales for the purpose-built, range-extended zero emission capable TX, LEVC saw sales nearly double from the previous year.
CaoCao Ride Hailing, a Geely Holding invested mobility service has expanded aggressively across China since its establishment in mid-2015. As of the end of 2019 the service is now operating in over 50 cities within China.  The platform became the second largest ride hailing company and fastest growing B2C ride-hailing service in the Chinese market. Since starting operations, CAOCAO drivers have saved more than 360 million litres of fuel using pure electric vehicles, leading to more than 730,000 tons in reduced carbon emission. The service has started expanding globally with test operations in Paris beginning in 2020.