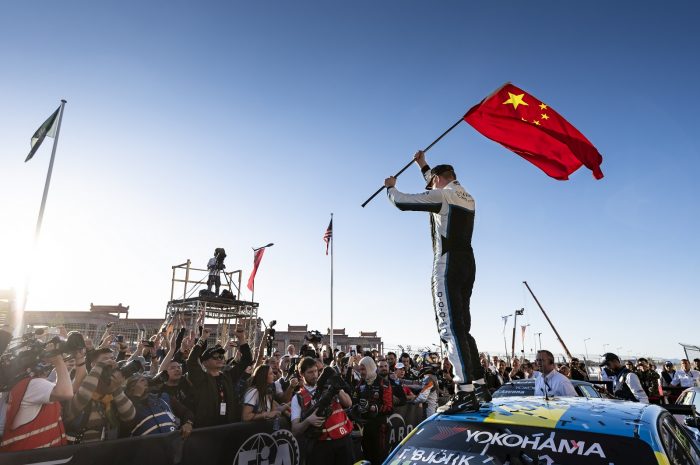 2019 April 07, Morroco. Lynk & Co Cyan Racing and Thed Björk delivered the first ever victory by a Chinese manufacturer in a FIA sanctioned World Cup of racing. The victory in the FIA WTCR season opener on the streets of Marrakech, Morocco, has taken the Swedish driver to the points lead.
"Everyone in the team has worked so hard during the winter and to win in the debut race of the all-new Lynk & Co 03 TCR race car is a fantastic reward for all involved," said Thed Björk.

"We were a bit surprised by our speed, especially as this is one of the toughest fields in the history of touring car racing. I can't thank everyone in the team enough, this is a fantastic start to continue building on for the remainder of the season that no doubt will be ultra challenging."
The first of ten FIA World Touring Car Cup weekends of 2019 resulted in one victory, three podium finishes, second place in the teams' standings and the lead of the drivers' standings for Lynk & Co Cyan Racing.
"This is a historic moment for Chinese automotive industry, with Lynk & Co claiming the first ever World Cup motorsport victory by a Chinese car manufacturer. This is an incredible start to the season. I wish to thank our partners Shell and Denso, and above all, Cyan Racing. We wish the team the best of success in the coming races," said Mr. Victor Yang, Vice President of Communications at Zhejiang Geely Holding Group.
Four-time World Champion Yvan Muller started second in the final race of the weekend and made a fantastic start together with team-mate Björk, with both passing Audi driver Frederic Vervisch to claim positions one and two after turn one.
Muller kept the lead until lap 14 when he was forced to retire due to suspension damage, handing the lead to Björk. The Swedish driver kept the lead until the checkered flag dropped on lap 23 despite immense pressure from the Audi driver.
"I was really disappointed to retire from the lead after showing strong form in both qualifying and the races," said Yvan Muller.
"But I am very happy for the team, delivering a victory and points lead on debut with a manufacturer that is completely new to motorsport, Lynk & Co."
Yann Ehrlacher challenged Honda driver Esteban Guerrieri and Tiago Monterio for fifth position on the first lap but was hit and had to retire from the race.
"It was an unfortunate and unnecessary incident. I am disappointed in the result for me personally this weekend, but glad to see our pace and for Thed to win," said Yann Ehrlacher.
Andy Priaulx fought hard from 17th on the grid to finish the race in 13th position.
"Starting this far down on a street circuit like this makes it almost impossible to make progress. But I managed to get into the points and we have made loads of progress heading into the next rounds," said Priaulx.
The next WTCR race weekend takes place on April 26-28th at the legendary F1 circuit Hungaroring in Hungary.
Points for drivers – Top 5
1 Thed Björk Lynk & Co 03 61
2 Esteban Guerrieri Honda Civic 56
3 Gabriele Tarquini Hyundai i30 49
4 Néstor Girolami Honda Civic 34
5 Frederic Vervisch Audi RS 3 32
…
8 Yann Ehrlacher Lynk & Co 03 24
10 Andy Priaulx Lynk & Co 03 18
11 Yvan Muller Lynk & Co 03 17
Points for teams – Top 5
1 Münnich Motorsport 90 pts
2 Cyan Racing Lynk & Co 78
3 BRC Hyundai 66
4 Cyan Performance Lynk & Co 42
5 Leopard Audi Sport 41
About Geely Group Motorsport
Geely Group Motorsport manages strategic alignment on activities and operation of specific motorsport programs for the automotive brands within Zhejiang Geely Holding Group (ZGH). It was formed in 2018 with headquarters in Hangzhou, China and Gothenburg, Sweden.