Geely's acquisition of Volvo almost 10 years ago seemed to some to be an unlikely coupling but turned out to be a match made in heaven. Let's take a look a back at how Geely proved naysayers wrong and 'freed the tiger'.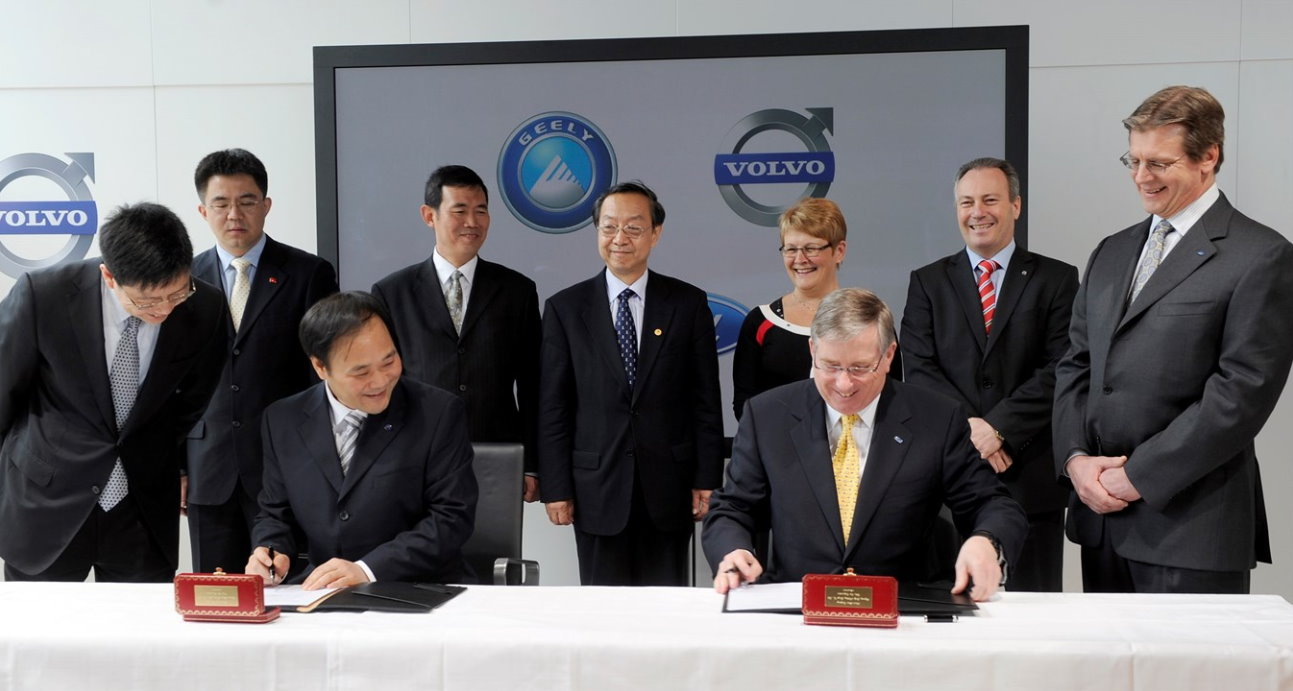 Volvo's chances of survival back in 2009 looked to be slim to none when Ford announced on March 28th 2010 that Volvo would be sold to Geely Holding Group, an unknown contender in the global automotive industry.
Recent losses had been staggering and owners Ford needed to sell fast to stabilise its own shaky finances following the global financial crash. But who to sell to? The options seemed bleak: two potentially underfunded consortiums or Geely, a Chinese automotive firm with just over 300,000 unit sales per year.
Ford went with Geely and history was made. As we approach the 10-year anniversary of that landmark handshake on August 2, 2010, between Geely Chairman Li Shufu and Ford's Lewis Booth, it's clear that the gloom-mongers got it wrong. Volvo is now profitable, stable and globally admired.
In those 10 years Volvo has morphed from a relatively small company reliant on a loyal but dwindling northern European customer base into a global premium brand manufacturing on three continents. How that was achieved has become an almost textbook example of how to marry European craftsmanship and expertise with Chinese speed and flexibility.
At the August event in Sweden, Chairman Li memorably described Volvo as a tiger that Geely would set free, but few industry watchers could see how it would work. They pointed to the almost complete lack of synergy between Volvo's line-up and Geely's then limited range of budget Chinese cars. How on earth could they create the economies of scale needed to make Volvo competitive against its formidable German premium rivals when a global giant like Ford couldn't?
Convinced that Volvo's then 80-year-old brand had the global appeal to challenge rivals, Geely helped Volvo raise 11 billion USD so it could replace Ford technology with its own. Even with the coffers now bursting with development money, Volvo knew it had to spend smartly. Replacement models would be built on one core platform – the Scalable Product Architecture, or SPA. This would be flexible enough to underpin SUVs, wagons and sedans that could be assembled in not just its two European plants, but also new factories planned in China and eventually the U.S.
This global scalability would help achieve sales numbers Volvo desperately needed to make the investment pay off. In 2010 Volvo sold just 373,525 cars. By 2020, it promised, that number would reach 800,000. This is an industry with a long history of making inflated claims of future sales, but Volvo's rising numbers have faithfully tracked that target for the last 10 years – in 2019, it sold 705,452 cars globally.
Developing a flexible platform was nothing radical, but Volvo's engine strategy definitely was. While premium rivals were offering customers six, eight or even 12-cylinder engines, Volvo decided all it needed was a solid range of four-cylinder units, with a three-cylinder joining later. Power needs would be met by turbocharging, supercharging and, with perhaps Volvo's greatest foresight, electrification. "The days of cylinder counting is over," Volvo CEO Hakan Samuelsson declared.
Through all this, Geely did what many industry analysts feared it wouldn't and kept its distance. The parent company quickly facilitated Volvo's production expansion into China, first in Chengdu then Daqing, but Volvo's engineering-led revival was an almost completely Swedish affair. However, Geely was developing a bold plan to tap Volvo's expertise. The goal was to improve its own models, expand Volvo's range beyond the size limits of SPA, and in doing so, create that synergy the experts believed would never be found.
So, in 2013, Geely and Volvo together established the China Europe Vehicle Technology Center, or CEVT for short, in the heart of Volvo's home city of Gothenburg. The goal was to produce a shared platform that could be used by Volvo, Geely and also by two new brands that would leverage the shared expertise – the electric performance brand Polestar and the youthful Lynk & Co.
The new R&D center, led by industry veteran Mats Fagerhag, operated very differently to Volvo's own development hub. Here 'Geely speed' met Volvo patience to create an almost start-up environment. Fagerhag equated the differences in approach to preparing for a journey. In Sweden the planning is done before setting off whereas in China, it's done on the move. "They jump into the car and start driving immediately," he said. "This pace was something we had to get used to."
It paid off. The first iteration of the Compact Modular Architecture, or CMA, was completed in just three years.
The CMA architecture now underpins the Volvo XC40 compact SUV, which last year shot into second place behind the XC60 in the global Volvo sales charts. It's also used for Lynk & Co's growing range (three and counting) and the newly launched Polestar 2. And it also sits under Geely's Xing Yue coupe SUV as well as the Preface concept, which previews Geely's first high-end sporty sedan.
The efficiencies are seen in the Volvo-operated plant in Luqiao, which builds CMA cars for Volvo, Polestar and Lynk & Co. Such are Geely's ambitions CMA has the potential to be the most widely used architecture in the world. None of this collaboration has hurt Volvo. Far from it. The company has been profitable since 2011 as sales continue to climb. China is now the brand's largest single market with 22 percent of all sales in 2019, with the U.S. in second place.
Volvo continues to lead the global automotive conversation, particularly when it comes to safety and electrification. This year it aims for 20 percent of all its sales to be plug-in hybrids or EVs. By 2025, it has promised, a full 50 percent of all its cars sold will be electric. Meanwhile, it has declared that all its 2021 model-year cars will be limited to a top speed of 180kmh (112mph), a safety promise every bit as provocative to the speed-obsessed premium market as the decision to limit itself to four-cylinder engines.
In 10 years, Volvo has defied every negative prediction of what it could achieve under Geely's ownership, based on what has worked before. Geely light-touch operation has helped Volvo thrive and in turn light up Geely's own path to success. As Volvo CEO Samuelsson said in a 2017 interview. "Maybe conventional wisdom is not always correct. You can be big or small or whatever. But you can always be better."