During the earlier phases in designing a car, design studios across the world would develop 1:4, 2:5 and even 1:1 scale models of their design. These are made out of clay, sculpted and carved until it reaches design perfection. Why do designers use clay and why is it so important for this earlier stage of conception? We spoke to the Geely Design team to find out.
Before the final production version of a car is ready, it has already gone through many iterations during the conceptualisation phase: from initial sketches on a piece of paper to digital models on CAD (computer-aided design) software and finally, to a prototype that functions almost like the final product. One key process that many do not know about is clay modelling, which takes place once the basic design direction is agreed upon and continues until the final design is approved.
This method of building a full scaled model of the car with clay (otherwise known as industrial plasticine) has been around for almost a century. Before clay, brands tried using other materials such as foam and plaster, but ultimately settled on clay because its malleable nature grants greater flexibility to designers while allowing them to feel the weight and better experience the entirety of the car. The material can also be easily and endlessly added to cater for countless adjustments.
Taking an idea…
Once the Product Development team decides on the next type of car, a brief is sent over to the Design department to come up with several key ideas in 2D. After several rounds of analysis and review, the approved design is handed over to the Physical Modelling Unit, whose primary function is to build a clay model of the car. This would be the first time the design is rendered in physical 3D, giving the designers a much better sense on what the finished product might look like.
…from a piece of clay…
The process begins by heating pure clay in an oven at 60 degrees until it becomes soft. About 30-40mms thickness of heated clay is then applied to an armature, which is basically a framework that is made from several different materials, including metal, wooden board and blue foam. Previously, the entire clay model had to be built manually but today, modellers use the combined help of a milling machine and digital data, making the process more efficient and the result more accurate.
To further shape and sculpt the clay, the modeller requires a variety of industrial tools including various rakes, modelling knives, shape cutters, shut line tools, stitch line tools, metal slicks and carbon splines. Aside from that, they will need a good pair of hands, a strong sense of responsibility and, on account of the amount of teamwork involved, a good amount of team spirit.
Since modelling clay is neutral brown, to make it look realistic, modellers will apply a thin coloured film to represent the painted surfaces of a car. The body is usually wrapped in silver film to reflect and absorb light, whilst the windows, grille and headlights are often covered in dark coloured film to make it look real. This can then be viewed later alongside the production car for a final evaluation on the design.
…to a complete design.
Once Design is purely satisfied with the clay model, it's time to invite other internal stakeholders to take a look, including engineering, manufacturing and marketing. Even the CEO may give his feedback. It's important to listen to input and make necessary changes to it, so that the car can accommodate the engineering and technology requirements, can feasibly be produced and will ultimately sell.
Although the physical modellers work in parallel with the digital modellers, the latter will get more involved once the final clay design is approved. They will scan the clay model, which serves as their input, and then further develop the finer details for both exterior and interior.
Once the clay model has served its purpose, it will be moved to an in-house storage facility. There, it waits in the event that Geely decides to make a facelift version of the original. If so, it will be pulled out of storage for further changes. If not, it will be stripped down, with most of the materials being recycled for the next project.
The future of design
For Geely, having its own in-house and globally-connected network of design studios has given it a strong head start in China with regards to clay modelling. Now, any member of the Physical Modelling team from Geely Design Shanghai is highly valuable not just to Geely Design's global network, but to the local automotive design scene as well. Furthermore, their unique and specialised skills can easily compliment today's digital tools.
To hone their skills even further, Geely Design Shanghai participates in monthly group calls with Geely's other design studios worldwide to share best practices and set global standards for clay modelling. Its team of 50 physical modellers also frequently take part in team building sessions and sculpting contests where they get to express Geely's existing car designs differently as well as build other non-car sculptures, such as statues based on Chinese zodiac animals.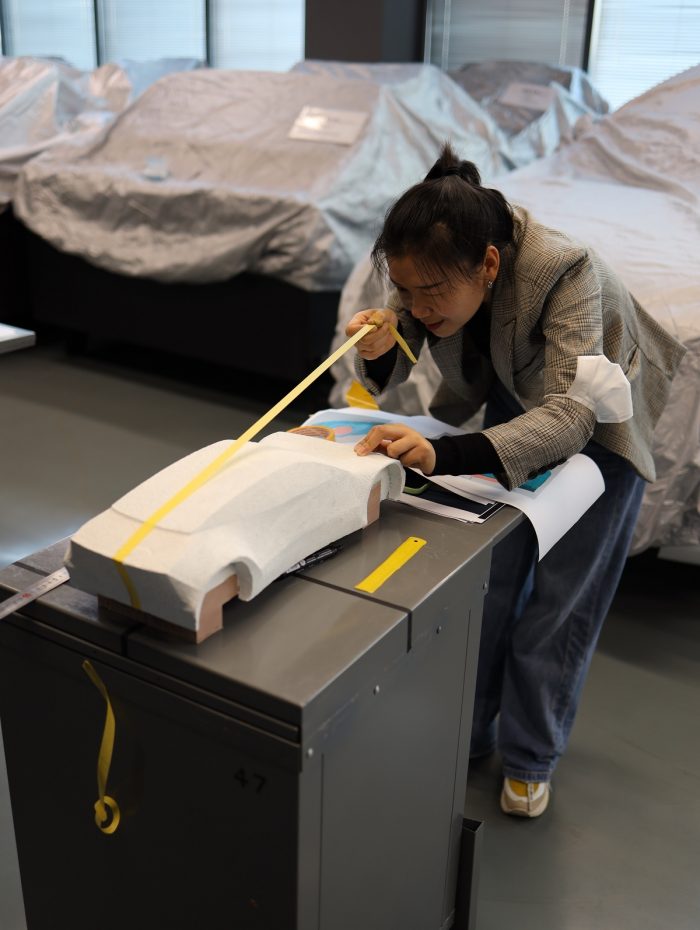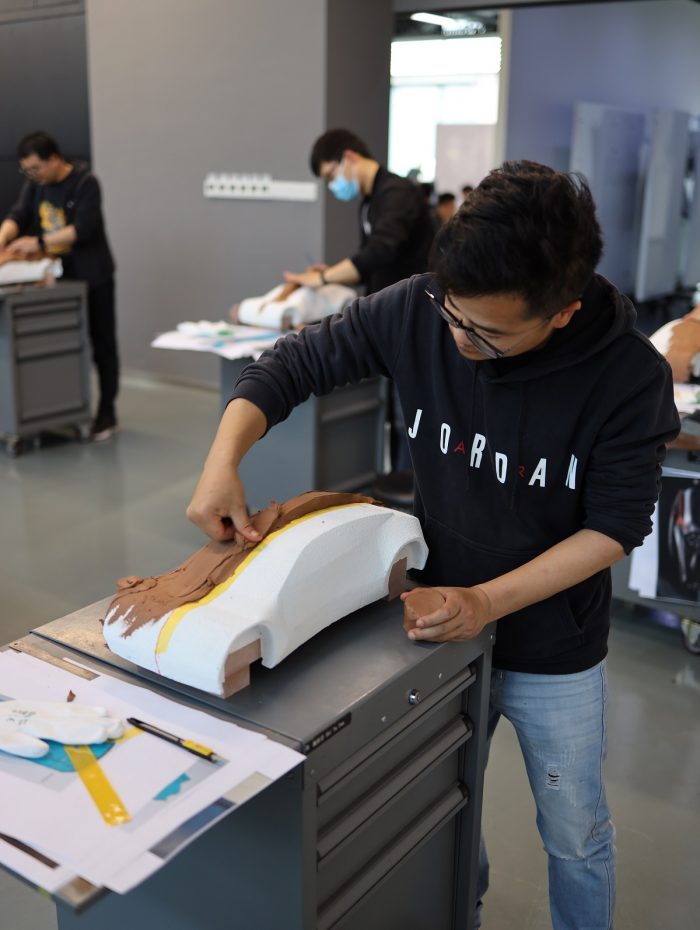 Geely modellers taking part in an internal sculpting contest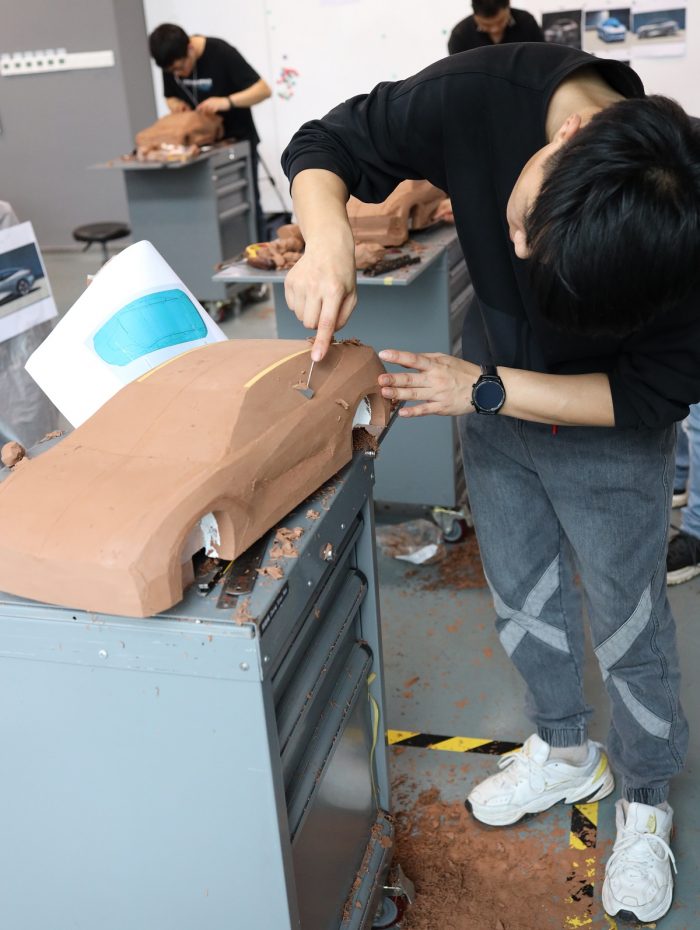 Looking ahead
Geely Design China foresees physical clay modelling will be practiced far into the future, for as long as cars are still being made. Advanced technologies can aid the clay sculpting process, but never replace it. 3D printing, for instance, helps create small components that add details and colour to the clay model, but once printed can never be altered. Virtual Reality (VR) is another new technology that allows designers to add depths to the physical experience but will never be sufficient on its own.
Clay modelling may be one of many processes involved in making a car but will always be where the car first assumes its physical form. It involves remarkable talents that work skilfully hard with their hands to ensure that your car is in the best shape it can be. The future of the industry, is quite literally, 'in their hands'.