During the May holiday, Geely Group's ride-hailing app received a 188% increase in orders. So why is the green taxi app so popular?
Bad weather, short for time, not feeling too great – whatever the excuse, sometimes it is just easier to take a taxi. But is there an option for those of us who wish to take private transport without creating carbon emissions?
Electrification of both public and private transport is occurring at a breakneck speed; global EV adoption rates for consumers are rising and governments are also investing in greener forms of public transportation. Geely Group, under its commercial vehicles arm Farizon, supplies public buses to a number of municipal governments, including in its HQ city of Hangzhou, and is also developing pure electric freight vehicles. In the ride-hailing field too, it has already created a new icon with LEVC's pure electric taxi, the TX.
Caocao, Geely's ride-hailing app service launched in 2015, is another way in which the Group pushes for greener mobility. How does it do this? By having a fleet made up almost entirely of new energy vehicles; to be precise, 97% of Caocao's vehicles on the road use either a pure electric or hybrid powertrain, whilst pure EVs alone make up 92% of its entire fleet. With 50,000 vehicles across the 61 cities in which the service operates, that's a lot more greener vehicles on the road.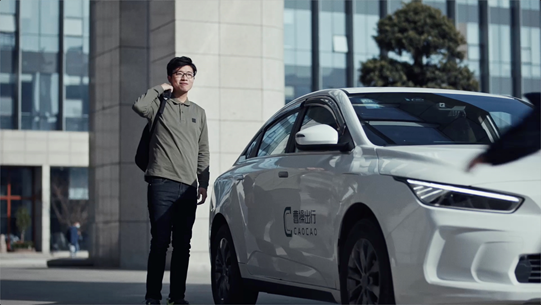 Caocao lets its users know how much emissions were saved when they take one of its cars, and puts it in a format that is clear and easy to comprehend in the app. At the end of each journey, a tree will appear with green distance travelled and emissions reduced as a result. In May 2021, the brand released a report on its carbon emissions reduction: to date its green taxis have travelled a total of 7.63 billion kilometres, saving 534 million litres of gasoline that would have been used to power traditional ICE (internal combustion engine) cars. This equates to a reduction of 1.08 million tons of emissions, the equivalent of planting over 59.2 million trees – who says private transport was all bad?
A mainstay of Caocao's fleet is the A from Geely Auto's pure electric brand, Geometry. As a spacious, comfortable and efficient sedan, the Geometry A has become synonymous with pure electric ride-hailing. "For a car costing under 200,000 yuan, I think it is a good choice," says Gemma Zhou, Caocao driver of three years, "this EV works better than others I have tried, has good acceleration and strong power. I think it's a better option than a gas engine car."
Caocao has also received attention for its pioneering use of battery-swapping tech, in which the batteries in its cars are swapped in 60 seconds at dedicated stations. But while as a brand, Caocao has plenty of tech (new energy vehicles, battery swapping with cloud management software) and provides a competitive service and pricing, this is perhaps ultimately not the reason its users come back time after time: "Caocao provides good service at reasonable prices but our passengers also consider the environment when choosing us," added Zhao.
Check out our explainer to learn all about Caocao.