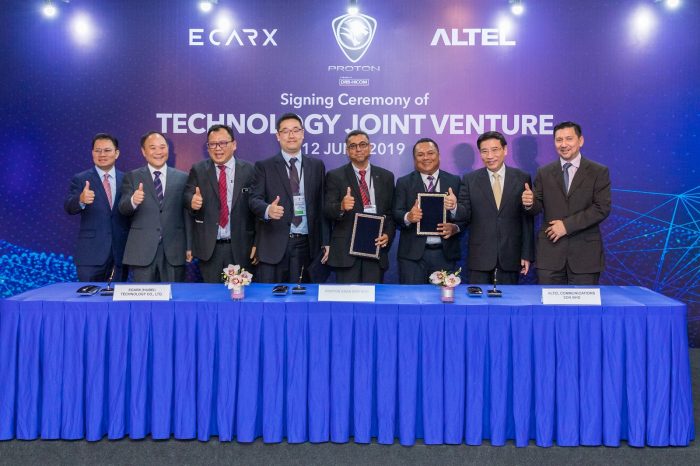 Three-way joint venture to focus on new technologies and services for the region
2019 June 12. Tanjung Malim, Malaysia. A joined venture was signed today between Proton Edar Sdn. Bhd., the sales and marketing arm of PROTON Holdings ("PROTON"), ECARX (Hubei) Technology Co. Ltd. ("ECARX"), a connectivity company invested by Zhejiang Geely Holding Group, ("ZGH") and Altel Communications Sdn. Bhd. ("Altel"), a Malaysian-based telecommunications services provider. The event was held at the PROTON Tanjung Malim manufacturing facility.
The three-way joint venture aims to establish a car connectivity R&D centre in Malaysia that will serve both the Malaysian market, as well as the greater ASEAN region. Shareholding of the company will be split accordingly between the three parties while key management personnel will be appointed in due course. In terms of staff, the joint venture company aims to aggressively recruit local talents.
Witnessing the ceremony was China's Minister of Industry and Information Technology, Miao Wei, and Malaysia's Deputy Minister of Communications and Multimedia, Eddin Syazlee Shith. Miao Wei is on his official trip to Malaysia and apart from witnessing the tri-party signing, was also taken to tour the expanded phase of the manufacturing plant. With estimated investment amount of up to MYR1.2 billion by both Geely and PROTON's majority shareholder, DRB-HICOM, the plant will soon be able to locally produce the Proton X70 SUV.
According to Dato' Sri Syed Faisal Albar, "PROTON aims to start production of the X70 in Tanjung Malim in the second half of this year, so we are working hard to ensure that we hit the target. It will be a remarkable achievement as in less than two years since the signing of the agreement between DRB-HICOM and Geely, we have reached a significant milestone in our joint effort to return PROTON to its position of prominence".
The partnership between PROTON and ECARX begun much earlier when the two companies collaborated to produce the Global Key User Interface (GKUI) for the Proton X70. The establishment of this new joint venture company aims to further refine and localize the GKUI for PROTON, as well as to supply its hardware and software solutions to other leading OEMs in the region.
The joint venture further aims to encourage collaborations in various other high-technology areas and raising the talent level around the connectivity industry in Malaysia. PROTON will also enjoy cost reduction benefits upon the localization of the Infotainment Head Unit ("IHU") hardware and its software can be tailored to better suit local customer preferences, while customers themselves will experience superior service.
ECARX has chosen PROTON as partner and Malaysia as the location for its ASEAN base due to existing and trusting relationship between the two companies after having worked together on the GKUI for the Proton X70. Malaysia is also ideal as it is strategically located at the centre of the Southeast Asian region, and is a growing economy with particular emphasis on technology with support and resources readily available, especially in terms of infrastructure and talents. The rate of technology ownership is high and Malaysians are well-versed in the latest technological advancements, making it a suitable market for the introduction, creation and adoption of new technologies and services.
By partnering with PROTON, Geely through ECARX is able to advance its support for the Belt and Road Initiative which has already garnered a strong backing from the Malaysian government. Until now, Geely's Belt and Road commitments have been focused on the flow of physical goods, capital and talents, whereas this marks the first time that Geely establishes a service orientated platform outside of China.
"I believe that the cooperation between China's Geely and Malaysia's PROTON will not only push for long-term sustainable development and brand competitiveness, but also brings with it a new force and energy that will drive the Malaysian automotive industry further to better serve the Malaysian people", said Miao Wei.