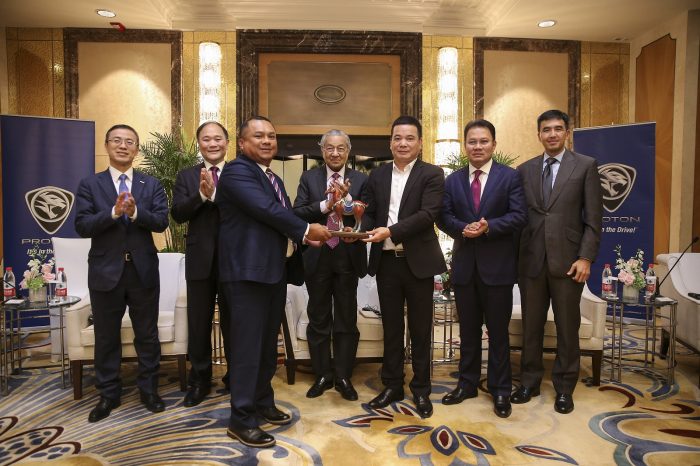 PROTON announces CKD plant in Karachi with local partner Al-Haj Automotive Group
China Construction Bank loan 1.888 billion MYR to PROTON for R&D and infrastructure development
Three-way cooperation between China, Malaysia, and Pakistan highlighted at Belt and Road Forum
Global revitalization of PROTON accelerated by Belt and Road Initiative
26 April 2019, Beijing – At the second Belt and Road Forum for International Cooperation held in Beijing, Malaysia's Prime Minister Dr. Mahathir witnessed the exchange of agreements between Malaysia's national carmaker PROTON with Pakistan's Al-Haj Automotive Group to build a new complete knock-down kit assembly plant in Karachi, Pakistan and an exchange of agreements between PROTON and China Construction Bank in which PROTON will receive a 1.88 Billion MYR (3.1 Billion RMB) loan for further R&D and infrastructure development.
The cooperative agreements between these Chinese, Malaysian, and Pakistani enterprises showcases the potential of the Belt Road Initiative. Also attending the ceremony were Li Shufu, Chairman of Geely Holding Group; Liu Guiping, President of China Construction Bank; Dato' Sri Syed Faisal, Group Managing Director of DRB-Hicom and Chairman of PROTON; and Daniel Donghui Li, Executive Vice President and CFO of Geely Holding Group.
Before attending the exchange ceremonies, Dr. Mahathir also attended a dialogue session with PROTON's Chinese component vendors and parties interested in finding out more about Malaysia's automotive industry's market landscape, government policies, incentives and regulations.
Global Revitalization of PROTON
According to the agreement between PROTON and Al-Haj, the new plant will be built on a greenfield site with an initial investment of USD30 million. Within the next three years, the cooperation between the two parties will directly create 2,000 new jobs in the local area and over 20,000 new jobs for supporting industries.
To further accelerate PROTON's global revitalization, an agreement has been signed between PROTON and China Construction Bank for a 1.888 billion MYR loan earmarked for improving PROTON's R&D capabilities and infrastructure development. Access to Chinese financing gives a boost to PROTON's future business expansion plans and global revitalization.
Dr. Mahathir founded PROTON in 1983 as a means to boost the Malaysian automotive industry and has since been a friend and supporter of Malaysia's national auto brand and its partnership with Geely. As part of the strategy to revitalize PROTON, the company committed itself to playing a more active role in developing Malaysia's automotive ecosystem by encouraging local vendors to improve their efficiency, quality, expertise and global outlook. This was achieved by matchmaking Malaysian vendors with their Chinese counterparts who already supplied Geely to form new joint-ventures and sign technical agreements. To date, 16 Chinese vendors have signed up for the initiative, cumulating in an initial investment of over 270 million MYR into the Malaysian automotive component industry. These vendors and other interested parties attended a dialogues session with the Prime Minister who has mentioned the industry as a vital component of the Malaysian economy.
Li Shufu, Chairman of Geely Holding Group expressed his gratitude to the Malaysian government for their long-standing support and bilateral economic opportunities created by this partnership. Speaking at the ceremony, Li Shufu said "Geely and PROTON are long-term strategic partners and we are committed to promoting the coordinated development of both parties. Together, we must seize the opportunities in new energy and intelligent vehicles as the auto industry transforms. We must bring best technologies and products to Malaysia, comprehensively enhance PROTON's innovative capabilities, upgrade their supply chain, further develop professional skills in our staff, share resources, achieve greater economies of scale, and accelerate the transformation and globalization of the PROTON brand."
Dato' Sri Syed Faisal, Group Managing Director of DRB-Hicom and Chairman of PROTON said "The exchange of documents between PROTON and its partners, ALHAJ and CCB, is a significant step in PROTON's journey to achieve its long term goals. Expansion to more foreign markets is critical for sales growth while obtaining financing allows the Company to invest in the many projects required to turn PROTON into a truly global automotive brand."
Integrating Global Resources and Achieving Greater Synergy
In 2017, Geely Holding Group signed an agreement with DRB-Hicom to acquire a 49.9% stake in PROTON, becoming a strategic partner to Malaysia's national automaker. With the strategic aim of returning PROTON back to being Malaysia's leading automaker and a top three brand in the ASEAN region, a comprehensive revitalization plan was formed focusing on improving talent, sales channel, cost, quality, supply chain, production plants, and the development of new products.
Over the past two years, the initial results of PROTON and Geely's synergy can be seen with PROTON's R&D capabilities, product quality, and market competitiveness continuously improving. On December 12, 2018, the first model developed by PROTON and Geely was launched in Kuala Lumpur. PROTON X70 was well received by consumers, becoming the best-selling SUV in Malaysia with over 26,000 orders and more than 11,000 deliveries in just three months.
Geely's partnership with PROTON has established a bridge of economic and trade between China and Malaysia, opening up a broader market for exceptional enterprises along the automotive industrial chain, and bringing sustainable development to more countries along the "Belt and Road."