"Beijing Geely College has become a shining beacon of private higher education with its forward-looking educational philosophy, focus on science, and exceptional achievements. It has become an important driving force for higher education reform."

——Honorary President of the World Federation of UNESCO Clubs and Associations

First President of the China Private Education Association, Tao Xiping
---
In 1997, before entering the automotive industry, Geely founded a school. At the time, there was an extreme scarcity of automotive talents in China. If China's domestic automotive industry had any chance of succeeding, it would need a strong talented workforce to support it.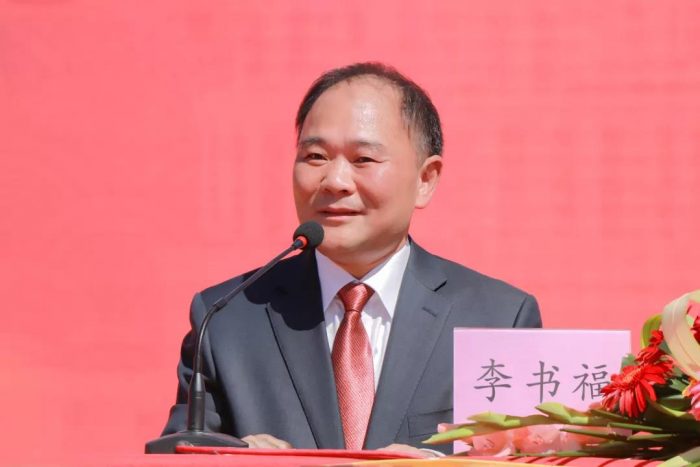 "Geely's foray into private education came partly out of a sense of responsibility and also necessity; It is not only due an admiration and yearning for education, but also due to local environmental factors. For Geely's development in the automotive industry, education provides a foundation of talent."
On September 24, 2019, Geely's Chairman Li Shufu, said those words at the semester opening ceremony of Beijing Geely College. This was the third time that year the Chairman spoke in public about education.
For the past 22 years, Geely has founded 8 colleges and universities, educating over 150,000 talents from high level technicians to graduate students. Every year over 10,000 highly-skilled graduates enter the workforce.
In Li Shufu's view, education is the foundation of national and industrial development. Education is the building block of competitiveness. Developing education is central to advancing the economy and society.
Li Shufu has said "Geely's investment in education is not for profit and will never be for profit."
Besides investing in education, Geely has spared no effort in research and development. Over the past 10 years, Geely Holding Group has invested nearly 100 billion RMB in R&D. In 2018, the Group's investment in R&D exceeded 21 billion RMB, accounting for 6.4% of its annual revenue.
Building a Car in One Hand, Building a Person in Another.
The "Zhejiang Economic Management College," which was founded by Geely, has gradually grown into three full-time colleges, Zhejiang Haoqing Automotive Industry School, Zhejiang Geely Auto Technician College, and Zhejiang Automotive Vocational and Technical College. Through these institutions, more than 23,000 automotive talents have been added to the automotive industrial chain over the past 20 years, many of whom have grown to become the backbone of their companies.
Looking back, Professor Chen of Zhejiang Automotive Vocational and Technical College remembered "at the time, the vehicle plant had 400,000 sq meters of land. It was divided three ways, one part was for the school, another for production, and the third was for the living quarters of the teachers, engineers, and experts."
This was the way Geely embarked on making cars.
"Although operating schools is very difficult, we must continue. History has proven that Geely's commitment to education has been essential to the development of Geely in the automotive industry."

——Li Shufu
In 1999, the Chinese government decided to encourage the private operation of schools and promoted the development of Chinese higher education. The whole country supported the initiative and Beijing Geely College was founded.
Over the past 19 years, over 2,000 alumni have gone on to become executives in large and medium-sized enterprises in China, or have become the backbone of subsidiaries within Geely Holding Group. Beijing Geely College has become a "national automotive talent training institution"
In 2005, an ardent advocate of education, Li Shufu looked at Hainan, where educational resources were scarce. He invested in the construction of Sanya University, the first and largest private undergraduate higher education institution on the island.
Today, this school has become one of China's fastest growing comprehensive private universities.
In 2012, Geely established the Hunan Geely Automotive Vocational College to train highly skilled talents for the automotive industry. The school has been designated a "talent training base" by the China Automotive Engineering Society.
"Creating a sustainable, respectable school cannot be accomplished in a day, it's not something that can be done by a single person. It's a relay race that continues to push the school forward."

——Li Shufu
Integrating Manufacturing and Education: Making Cars and Teaching, A Win-Win Combination
The essence of education is to let students explore freely. The purpose of schools is to help student get ready to enter society. The mission of universities is to teach them culture, professional knowledge, science, and cultivate a new generation of explorers.
Over the years, Li Shufu has always believed that the cultivation of both research and vocational talents are both equally important. Research and applied science are not two divergent paths of education, they're twins on the path toward progress.
The cultivation of high-level technicians has become a pressing matter in the world. Innovation is a multi-faceted, step-by-step process that involves not just researchers but also front-line technicians. Many innovative achievements and major scientific discoveries stem from constant practice and inspiration on the front line.
In line with the future development of automotive intelligence, Geely has made certain plans.
In 2016, Sanya University established the School of Information and Intelligent Engineering with a focus on artificial intelligent and big data.

In July 2018, Sanya University invested 100 million RMB to build the 25th national and first supercomputing center on Hainan. The center's computing power has risen to fifth amongst China's national universities.

In April 2019, Zhejiang Automotive Vocational and Technical College established the first professional training facility for industrial robotics in the Linhai district of Taizhou.
"The success of the students is the success of the school. The dreams of the students are the dreams of the school. All effort of the school is for the betterment of the students."

——Li Shufu