"Although I can't see your face, I can see the light you emit"
This was a message heard by a doctor in Wuhan's Third Hospital during the recent coronavirus outbreak. "I can't see your face, I don't know who you are, but I know what you're here for."
In 2020, with the outbreak of the new Coronavirus in Wuhan, a large number of front-line medical staff fearlessly sprung into action without a thought of person gain – to protect the people they would remain fearless in the face of death.
This is a war without guns and, although we won't remember each individual face of the 'army' of medical professionals that were called to action, their fearlessness during the epidemic has become the symbol of this Spring.
A 'ferry' in a besieged Wuhan
Since closing the city, most aspects of everyday life in Wuhan have been put on pause. Without public transportation, a group of 'ferrymen' crisscross the city helping citizens solve their new and sometimes urgent problems related to mobility. These are the drivers of CaoCao ride-hailing app.
The start of the Lunar New Year also saw the start of CaoCao's "Emergency Epidemic Prevention and Control Fleet", which served 117 communities all over Wuhan.
Zhou Jun, CaoCao's fleet captain who also celebrated a birthday on the fleet's launch, said "This is my most meaningful birthday. I can be a "Wuhan ferryman" and help my hometown get through this difficult period."
During the outbreak, Zhou Jun had to wake every morning at 5am and wouldn't be able to sleep until well into the night. His work hours were nearly double those of regular days. Before the beginning of each working day, he was responsible for making sure the fleet was fully staffed and ready to go. Despite all of the team's hard work, Zhou Jun felt that compared to the medical workers on the front lines, what they were able to do was incomparable.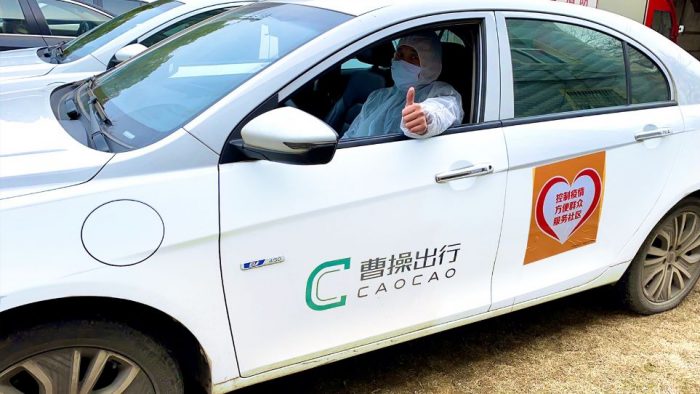 42 year old Yao Jun, a native of Wuhan was among the first to volunteer for the special fleet.
Instead of spending time with his family during this difficult period, he traveled 200 kilometers each day and spent countless hours disinfecting his vehicle. In the eyes of his nine year old son, his dad is a hero. This strengthened Yao Jun's resolve in overcoming the epidemic and gave him confidence that what he was doing was right.
Yao Jun said "As a native of Wuhan, I must help my hometown when it's in trouble."
My countrymen are in trouble, I must do what I can!
Don't look back, just continue onward
Master Xiao was just a regular CaoCao driver in Changsha. But during this period, instead of picking up a fare he went straight to Leisheng Mountain by himself.
He said "My countrymen are in trouble, I must do what I can!"
His experience in plumbing allowed him to assist with installing water pipes. For ten straight days he woke up at 6:00am and worked through until midnight.
While all this was happening, Geely Auto Logistic Department employee, Zhu Gaojiong received a call.
"Do you want to help build Leisheng Mountain?"
"Let's Go"
Wearing his suit, he stepped into this backwater without looking back. On the construction site, whatever was asked of them they would do: sealing rooms, installing pipes or clearing construction debris.
50,000 square meters…75,000 square metres…80,000 square metres – the size of the construction site rapidly increased in the face of the epidemic. In just six days, the planned construction area of the Leisheng Mountain Hospital grew three fold and the number of beds increased from 1,300 to 1,600.
The youth, go forth with your countrymen
A Geely Emgrand with a Zhejiang B license plate heads west. The owner, a young man names Zheng Yihuan, has only been driving this model for three months.
Driving all the way from Ningbo to Wuhan (a trip of around 900 kilometers), this was his first long-distance trip. He was driving to fulfill his role as a stand-in nurse at Wuhan Wuchang Hospital. Along the way, his nurse's certificate and application to the hospital became his travel permit. The day after arriving, Zheng Yihuan was put to work helping those in need.
Each day he saw more than 20 patients with mild Coronavirus symptoms. Wearing thick layers of protective clothing, an airtight mask, and frequently-fogging goggles, it was difficult to breathe for long periods of time. But when the patients reached out to him, it was all worth it.
Zheng Yihuan did not hesitate to donate his 10,000 yuan "Epidemic War Hero Award" money to a non-profit organization supporting the fight against the epidemic. To him, this was the obvious choice and his duty as a medical worker.
Geely Group would like to thank all those who came to Wuhan's aid during the recent outbreak of the Coronavirus. You are truly an inspiration to us all!
"As the fog dissipates, their always-brilliant smiles reappear."