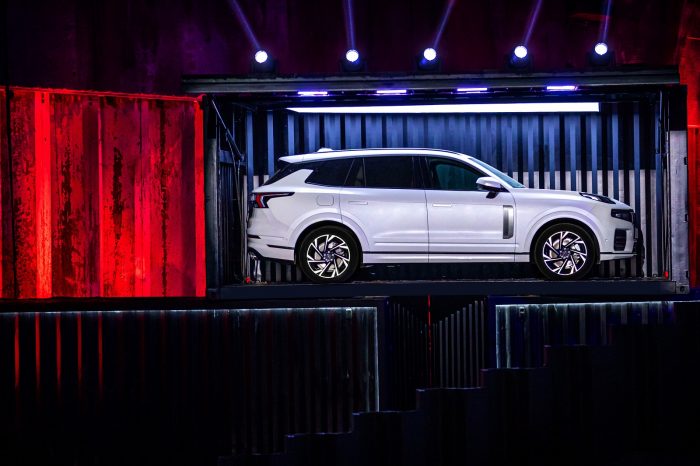 Nearly 600,000 cars sold in five years of brand operation.
First SPA-based model launched – the 09 mid-sized SUV.
Born global, the brand continues to expand with plans in the Gulf Region and wider Asian market
2021 October 21st, Shanghai. Exactly five years ago, Geely Holding Group unveiled its secret project; 'LYNK & CO' to the world at an event in Berlin, Germany. Today, Lynk & Co celebrates its fifth-year anniversary as a brand with the launch of its SPA-based 09 SUV.
Personal, Open, Connected
Lynk & Co was born as a premium brand that is strategically positioned between Geely Auto and Volvo Cars in a new premium segment to target global consumers. The brand was created to challenge the normal conventions of the automobile industry with a concept revolving around being personal, open, and connected. Lynk & Co has introduced a new business model, an open API, personalized services, sharing possibilities and the first dedicated app store for cars.
Pioneering Modular Architecture
Utilizing the global capacity of the wider Geely Holding Group, Lynk & Co 01 was the first model to be developed on the CMA (Compact Modular Architecture). CMA was engineered and developed at CEVT (China Euro Vehicle Technology), the shared Geely Auto and Volvo Cars research and innovation center in Gothenburg, Sweden. All subsequent models developed by Lynk & Co have been based on advanced modular architectures from Geely Holding including the BMA (B-Segment Modular Architecture) and SPA (Scalable Product Architecture).
From the very beginning, all advanced modular architectures from Geely Holding and its subsidiaries have been developed from the ground up to support electrification. As the first brand to utilize Geely Holding's new generation of advanced modular architectures, electrified powertrain options are made available across Lynk & Co's line-up.
Always Connected
The core and heart of the Lynk & Co brand is connectivity. Users are provided with an ever-expanding range of connected technologies in the vehicles, all aimed at making life easier. In just five years, Lynk & Co has accumulated nearly 600,000 vehicle users, with app registrations reaching an even higher number of 1.57 million. Average active monthly users on the app exceed half a million whilst average daily users have reached 120,000.
The Product Range
Lynk & Co has launched a new model every year since its launch, while successively expanding its product range with the 01 Compact SUV, 02 Hatchback, 03 Sedan, 05 Coupe SUV, 06 City SUV, and the latest SPA-based 09 Flagship SUV. Designed in Gothenburg, each model carries Lynk & Co's unique 'Megacity Contrast' design concept inspired by the lifestyle of youthful urbanites from megacities such as London, New York, Paris, Shanghai, and Tokyo. Every Lynk & Co model offers users a bold and tech-laden mobility experience.
The latest addition to the Lynk & Co range, the 09, is based on SPA and is one of the first models to be available as a hybrid only – either in mild-hybrid or plug-in hybrid offering paired to a 2.0T engine with both front wheel drive and all-wheel drive configurations. The 09 is the first large SUV from Lynk & Co and offers 6 or 7 seat offering for end users.
Co-creating and Global Expansion
Lynk & Co was born in the globalized internet era of shared experience and seamless connectivity. Ever since its launch, Lynk & Co has avoided being referred to as just another car brand, but rather a user orientated brand.
Connecting directly with its users, the brand's products are sold directly online and delivered straight to their doors. New and varied solutions for vehicle and mobility accessibility are offered – from traditional ownership and leasing, to mobility-based membership and sharing.
Lynk & Co delivered its first limited edition 01 vehicles in November 2017. Since then, the brand has been on a whirlwind program, delivering nearly 600,000 cars in the process and establishing 319 sales and experience centers across China.
In the European market, Lynk & Co Clubs are being established as a center for members and users to meet, hang out, and share experiences. The Clubs are presently located and operational in Belgium, Germany, Sweden and the Netherlands, with plans to expand into Spain, France and other countries in the near future.
Lynk & Co will expand to the Gulf region in the fourth quarter of 2021 and will begin Asian market expansion in due course.