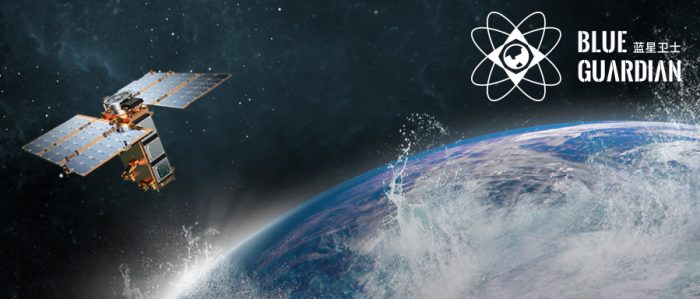 Geely to kickstart in-house "Blue Guardian" Project to aid in marine cleanup operations
Project to use satellites to locate and aid clean up ocean debris, oil spills, algae, and ecosystem monitoring
Marine cleanup first step of wider effort to use Group's technology for environmental protection
2021 April 22nd, Hangzhou China. Zhejiang Geely Holding Group (Geely Holding), China's leading privately-owned automotive group, announced the launch of its "Blue Guardian" Project, focusing on ocean cleanup and the protection of marine life.
The Blue Guardian Project will use high-level remote sensing AI satellites that have been independently developed and designed by Geely Holding's GeeSpace, its aerospace arm. These will be used to locate and identify various types of marine waste including plastic buildup and floating garbage, oil spills, and even areas where an imbalance in the ecosystem has resulted in unnatural overgrowths of sea algae and moss.
Geely Group began the development of satellites to provide a range of mobility services including Internet of Vehicles and Autonomous Driving functions, such as V2X (vehicle-to-everything) communications. While it will still produce satellites to serve these purposes, the expert knowledge the Group has gained in this field has allowed it to develop different types of satellites, with different uses. The Blue Guardian Project will use purpose-built satellites which differ entirely from those used in mobility services operations.
Blue Guardian's operations will commence in the second half of 2021.
Bring Back Our Blue Oceans
Ocean debris not only greatly affects the marine ecosystems over long periods, but also causes direct harm to marine life. This is why the Group has committed to using its technological prowess, including its development of satellite technologies, to aid in the cleaning and maintaining of the Earth's oceans.
These remote sensing satellites will observe oceans and coastal areas, and identify and monitor patches of floating debris. This information will then be processed using AI algorithms, which can identify changes and prioritize most at-risk areas, and then forwarded to nearby teams who can begin the cleanup operation.
The Blue Guardian satellites will also be used to identify oil spill areas and help to accurately control the spread by monitoring the scale and direction of oil spills to aid relevant departments in quickly carrying out emergency response, and assist in determining the best oil removal program.
In the treatment of natural disasters such as algae blooms that starve sea life of oxygen, the satellites can effectively identify the source and spread, alerting authorities with a smart early-warning system. More than this, Geely's own IoT satellite constellations, when connected with an intelligent network of other connected devices, such as monitoring buoys and stations, can assist in the protection of marine ecological systems and relay information to the necessary authorities, preventing total ecosystem collapse from occurring.
A Long Term Effort, for the Future
In the year of Geely Holding's 35th Anniversary, the Blue Guardian Project marks its latest plans in contributing to environmental protection as it uses its technical knowledge and experience gained as an industry forerunner to give back to society. The Group is always looking for ways it can play its part in creating a sustainable future, including in both its product range and also in the wider applications of its independently invested and developed technologies.
The Blue Guardian Project will be a long term effort, first focusing on the seas with the help of GeeSpace's satellites, but in the future will cover land and other more difficult-to-reach areas and will encompass an increasingly-advanced range of different technologies and devices. Satellites will be made available for use by third parties who wish to gain access to the coverage of the constellations in their efforts to protect and clean up sensitive environmental areas.