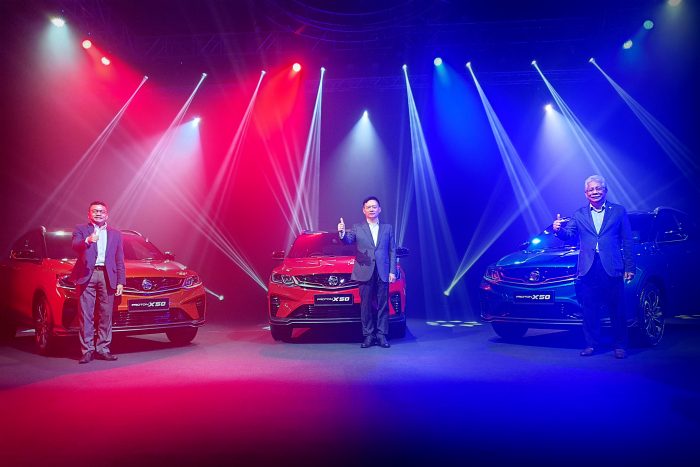 PROTON launches its most highly-anticipated model to date, the Proton X50, in a virtual event
The Proton X50 will raise PROTON's profile as a technology leader, value-focused brand in the ASEAN Market
The launch of Proton X50, based on the Geely Bin Yue crossover, further cements Geely Holding's position as a global carmaker
2020 Oct 27, Kuala Lumpur, Malaysia. Malaysian carmaker, PROTON Holdings Berhad ("PROTON"), a Zhejiang Geely Holding ("Geely") invested company, launched its brand-new car model, the Proton X50, in a virtual ceremony earlier today. The X50 crossover, which is based on the Geely Bin Yue (Geely Coolray in some markets), has already garnered more than 20,000 bookings to date since its official announcement in September 2020.
The Proton X50 became one of Malaysia's most highly-anticipated cars of 2020 due to the success of its predecessor, the market-leading Proton X70 SUV, which has sold over 43,000 units to date since its launch in December 2018. Since then, PROTON's brand perception has shifted considerably with vast improvements made to its product quality and dealer network throughout Malaysia.
The new X50 crossover is poised to further redefine PROTON as a trendsetter, with a stronger emphasis on enticing the younger crowd through its slick and unique designs and vibrant selection of colours. The Proton X50 comes with a number of new and enhanced performance and connectivity features which deliver real value to consumers looking for an affordable, yet inclusive and technology-driven vehicle.
The Proton X50 is developed on Geely's BMA architecture and utilises Geely Holding's full suite of technologies that were jointly developed with Volvo Cars at Geely Holding's jointly operated R&D facility in Europe, CEVT. The X50 crossover was re-engineered and redesigned from the Geely Bin Yue to make it suitable for the Malaysian market through extensive joint development work involving teams from PROTON and Geely.
The Geely Bin Yue was launched in China in August 2018 and has sold more than 80,000 units globally to date. The crossover was renamed into the Geely Coolray for global markets and was Geely's first product offering when it relaunched itself in the Philippines. The Geely Coolray was subsequently launched in Russia and is also being produced at Geely's BelGee plant in Belarus to cater to the domestic market.
The assembly of the Proton X50 is carried out at PROTON's Tanjung Malim factory, which recently underwent an MYR 1.2 billion (approximately USD 288 million) upgrade that allows it to produce a new range of vehicles co-developed with Geely, including the Proton X70 SUV. The local production of both these vehicles is testament to Geely's expanding global manufacturing footprint that also saw similar investments into the production of other group brands, such as Volvo Cars and Lotus.
PROTON's total sales for 2019 increased by 55.7% over the previous year, with 100,821 cars sold, as it reclaimed the second spot in the Malaysian automobile sales ranking from fourth. In 2020, despite the COVID-19 pandemic that saw a series of movement control orders imposed by the Malaysian government to curb the spread of the virus, PROTON's nine-month sales figure from January to September has already exceeded 2019's sales figure of the same period by 4.3%.
The Proton X50 is set to play a pivotal role in PROTON's brand rejuvenation in the coming years as the carmaker continues to grow based on its technology offerings in Malaysia and soon, the wider Southeast Asian region, including Brunei, Thailand, and Indonesia, as well as other regional markets. It aims to be the number one automobile brand in Malaysia and one of the top three brands in Southeast Asia by 2027.