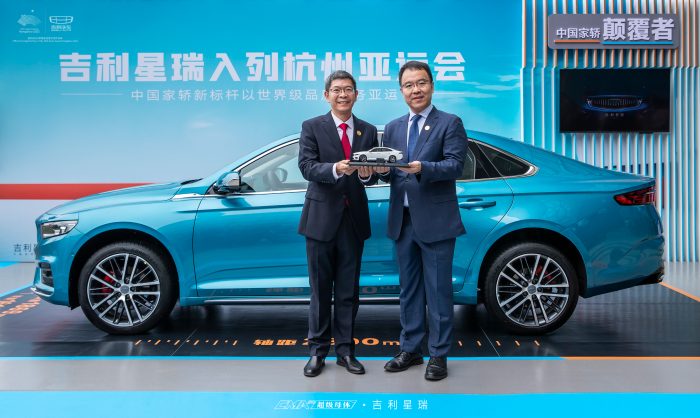 Geely Auto appointed first chair of Asian Games Sponsors Club
Preface selected as official vehicle of the games
Geely Holding Group actively taking part in preparations games
October 18th 2020, Hangzhou China. The organisers of the 2022 Asian Games have kicked off preparations for the highly anticipated event by bringing together eight of the local Hangzhou and Zhejiang-based sponsors into the Asian Games Sponsors Club, of which Geely Auto has been appointed the first rotating chair of the Club.
As a second part of the agreement, the Geely Preface (Xing Rui) has been selected as the official vehicle of the games as a key partner. The Preface was unveiled at the 2020 Beijing Auto Show in September 2020 as the first sedan from the Geely Auto brand based on the Compact Modular Architecture (CMA) which is also shared with wider Geely Holding Group range of vehicles.
Geely Holding Group is actively taking part in the preparations for the 2022 Asian Games with the Group using its combined technological know-how to contribute to programs such as a 5G equipped intelligent highway from Hangzhou to Ningbo City that will allow for 5G empowered mobility, fully autonomous mobility service within the Asian Games zone, and other smart services.
"Hangzhou 2022 is not only a sports extravaganza but an excellent platform for enterprises to present themselves. The reason we establish this Sponsors' Club is that we hope to promote information sharing, communication and cooperation between the sponsors, to build a new model for sports marketing and create a win-win situation for Hangzhou 2022 and its sponsors," Mao Genhong, Deputy Secretary-general of the Hangzhou 2022 Organizing Committee, noted.
The overarching theme of the 2022 Asian Games Sponsors Club is "Collaborate*Change," which implies that the sponsors will join hands and give full play to their respective strengths to empower the success of the Asian Games. "Collaborate" means they will come together in cooperation, combining their smart technologies and strengths. "Change" means the sponsors will synergize and take the opportunity of the Asian Games to achieve greater things.
Notes:
Other members of the official partners club include Alibaba, Alipay, China Telecom, China Mobile, ICBC, 361sport and Zhejiang Loong Airlines whilst Robam and Monalisa are official sponsors