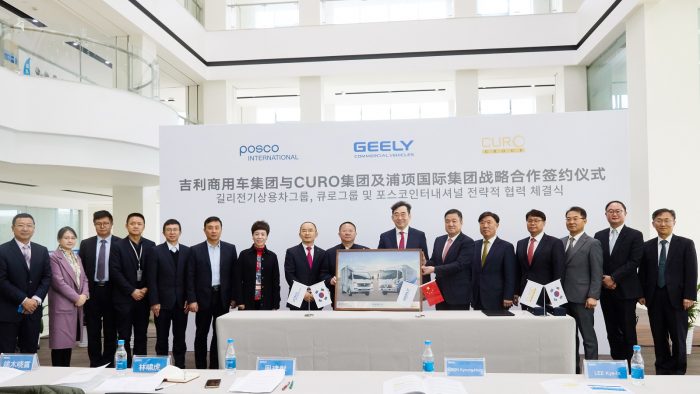 South Korean POSCO International (POSCO) and CURO GROUP Co. (POSCO ) will become agents for Zhejiang Geely New Energy Commercial Vehicle Group (GCV) in South Korea.
The partnership is the first step in GCV's Farizon Auto brand overseas expansion.
2019 November 25, Hangzhou. Zhejiang Geely New Energy Commercial Vehicle Group (GCV) along with South Korea's POSCO International (POSCO) and CURO GROUP Co. (CURO GROUP ) have jointly announced that they have formed a three-way strategic partnership to support the global expansion and sales of Geely commercial vehicle brand, Farizon Auto, in the South Korean Market.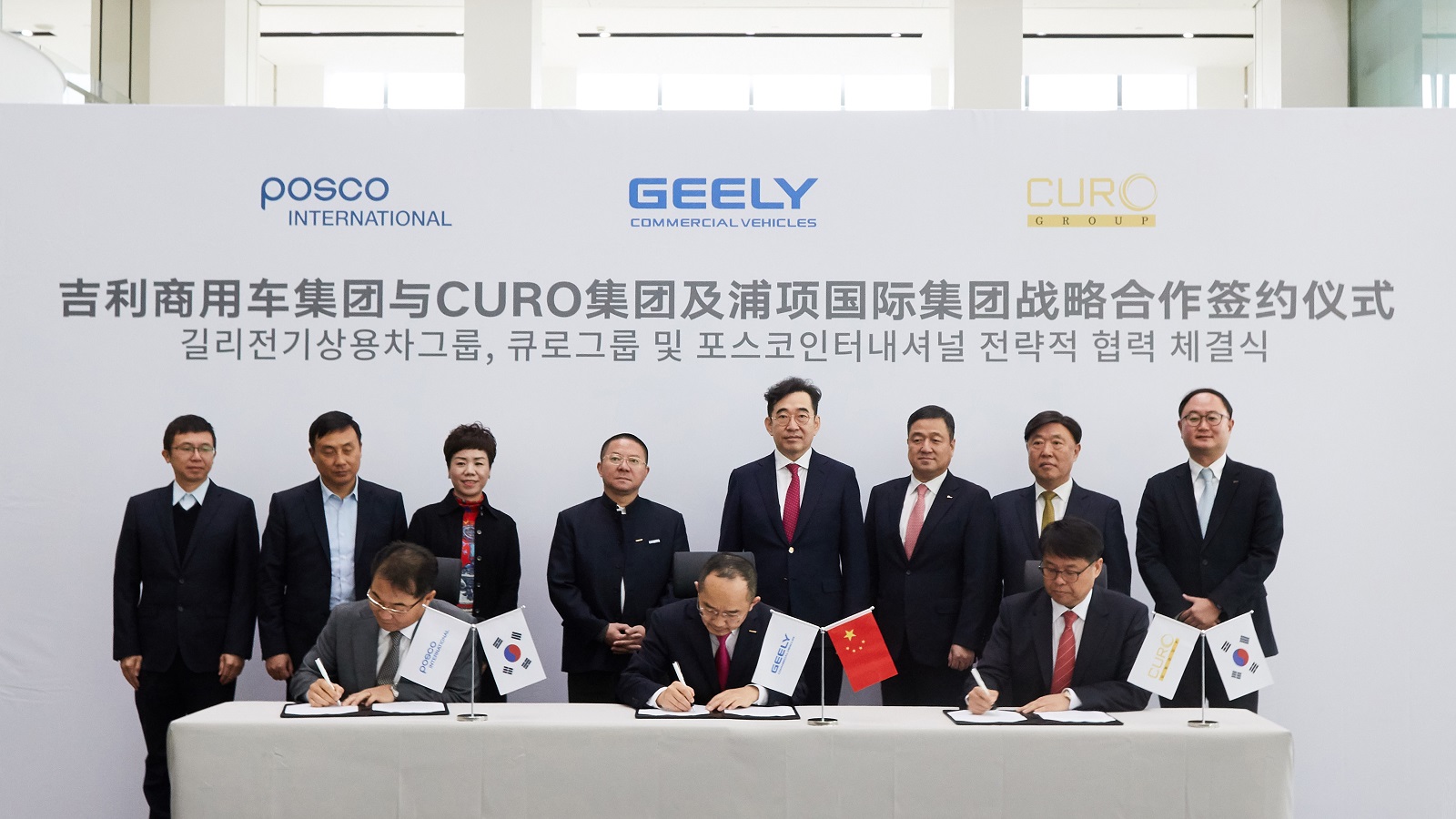 POSCO will become a strategic agent for GCV in South Korea and take charge of the overseas sales of specific models from Geely commercial new energy vehicle range. CURO GROUP will provide technical support within South Korea for sales and servicing.
The three parties will jointly develop and adapt existing Geely's Farizon range of commercial vehicle models to meet local market demands and policy requirements such as importation, electric vehicle subsidy policies, and local market segmentation in the Korean market with all three parties contributing financially.
President of Geely New Energy Commercial Vehicle Group, Mr. Zhou Jianqun said, "This is the first strategic overseas project for Geely's Farizon Auto commercial vehicle brand and it will have has far-reaching significance as we begin our global expansion plans. China and South Korea have always had mutually beneficial relations especially in the areas of economy and trade. I believe that the cooperation between Geely Commercial Vehicle Group, POSCO, and CURO GROUP will create more value than we can imagine."
Chairman of POSCO International Automotive, LEE Kye-In said, "Geely Commercial Vehicle Group's focus on new energy and green vehicles are helping to lead industry change. POSCO International has extensive experience in global automotive sales and can maximize the advantages of Geely's new energy commercial vehicles."
Chairman of CURO Group, KWON Kyoung-Hoon said, "CURO Group is confident in the future success of this partnership. We believe that these cutting-edge green products from Geely Commercial Vehicle Group will inject new vitality into the Korean commercial vehicle market. We hope all partners give full play to their advantages and make this partnership a success."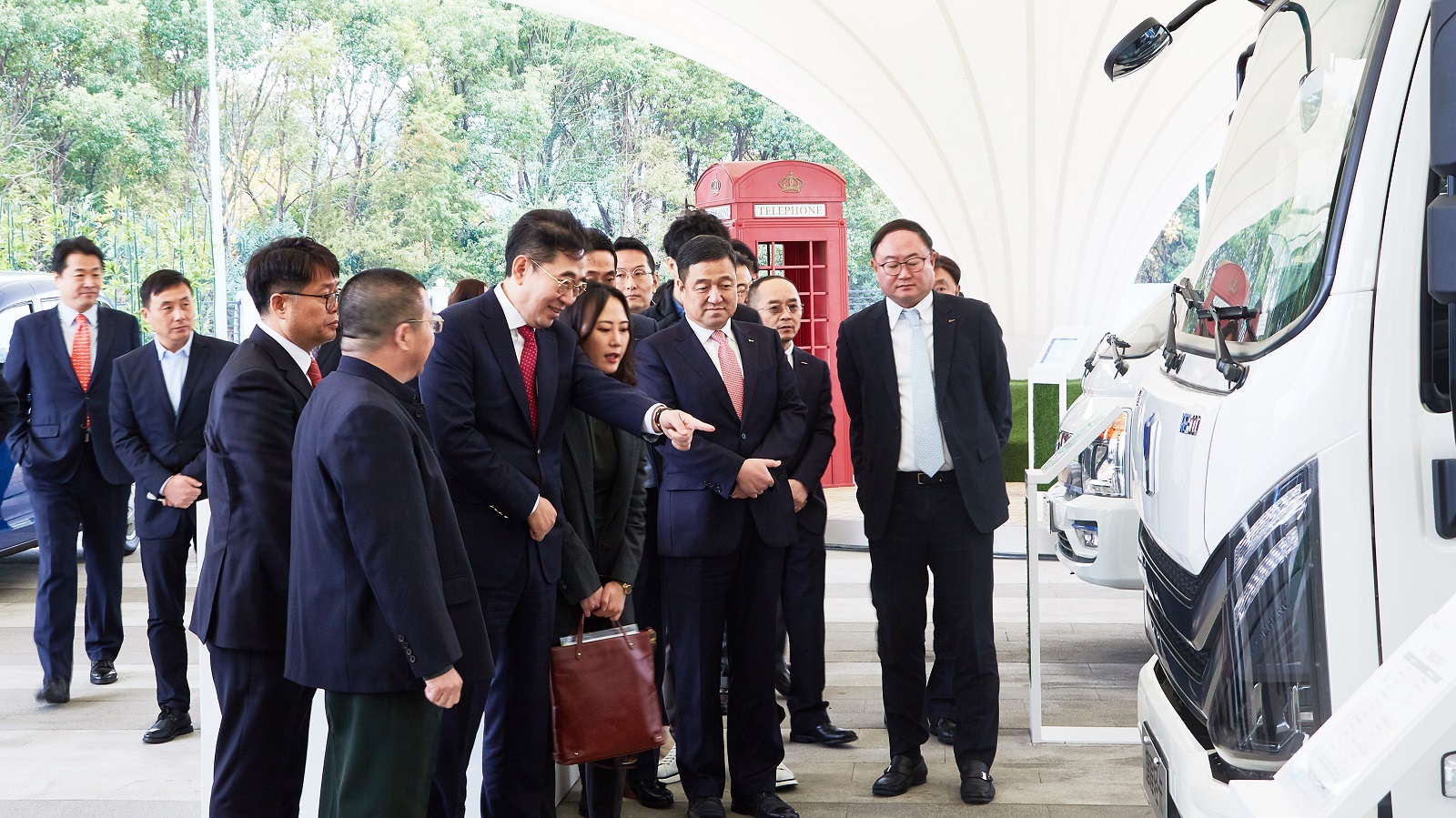 This cooperative partnership represents GCV's commercial vehicle brand, Farizon Auto's first step into global markets after its success in the Chinese domestic market. GCV's overseas expansion is also in response to China's Belt and Road Initiative and the promotion of economic exchange between China and Korea.
About Geely Commercial Vehicle Group and Farizon Auto:
Geely Commercial Vehicles Group (GCV) was established in 2016. It is a wholly-owned subsidiary of Zhejiang Geely Holding Group. The group operates London Electric Vehicle Company (LEVC) and Farizon Auto. The company focuses on the R&D, manufacturing, sales and services of commercial vehicles powered by new energy and alternative fuels.
Farizon Auto, a new energy commercial vehicle brand under GCV, was founded on October 26, 2016. Its core products are e-GAPF-based urban commercial vehicles and methanol-fuel vehicles, including 3.5T-49T trucks, 8-12M buses, pickup trucks and vans, satisfying a wide variety of commercial vehicle market demands.
About POSCO:
Founded in 1967 as DAEWOO Corporation, POSCO International has played a leading role in Korea's economic development. POSCO International mainly operates in the fields of international trade, development and management of infrastructure, and resource development. In 2010, the company was incorporated into the POSCO Group. Utilizing an international network comprised of more than 80 subsidiaries across the world, POSCO International today establishes value chains in various areas of business including steel, energy, agro-commodities, chemical products, machinery parts, infrastructure, etc. POSCO Group has been included on the Fortune Global 500 for 25 years.
About CURO GROUP:
CURO GROUP is a Korean conglomerate involved in multiple business segments including automobiles, auto parts, real estate, clothing, IT, and consulting. In recent years, it has expanded deeply in the fields of new energy vehicle design and engineering.  ITE is a wholly-owned subsidiary of the Group responsible for the design and production of new energy vehicles and components. It has extensive experience in the design and development of new energy vehicles.