For many, Geely is a place for work and professional growth, but some have found much more…
From mere acquaintance to familiarity and finally intimacy, these are the everyday love stories of the people who met while working at Geely. Over the years, much like the company, their love has developed into something strong.
Working together, growing together – Zhong Quan & Qiu Yue from Hangzhou Bay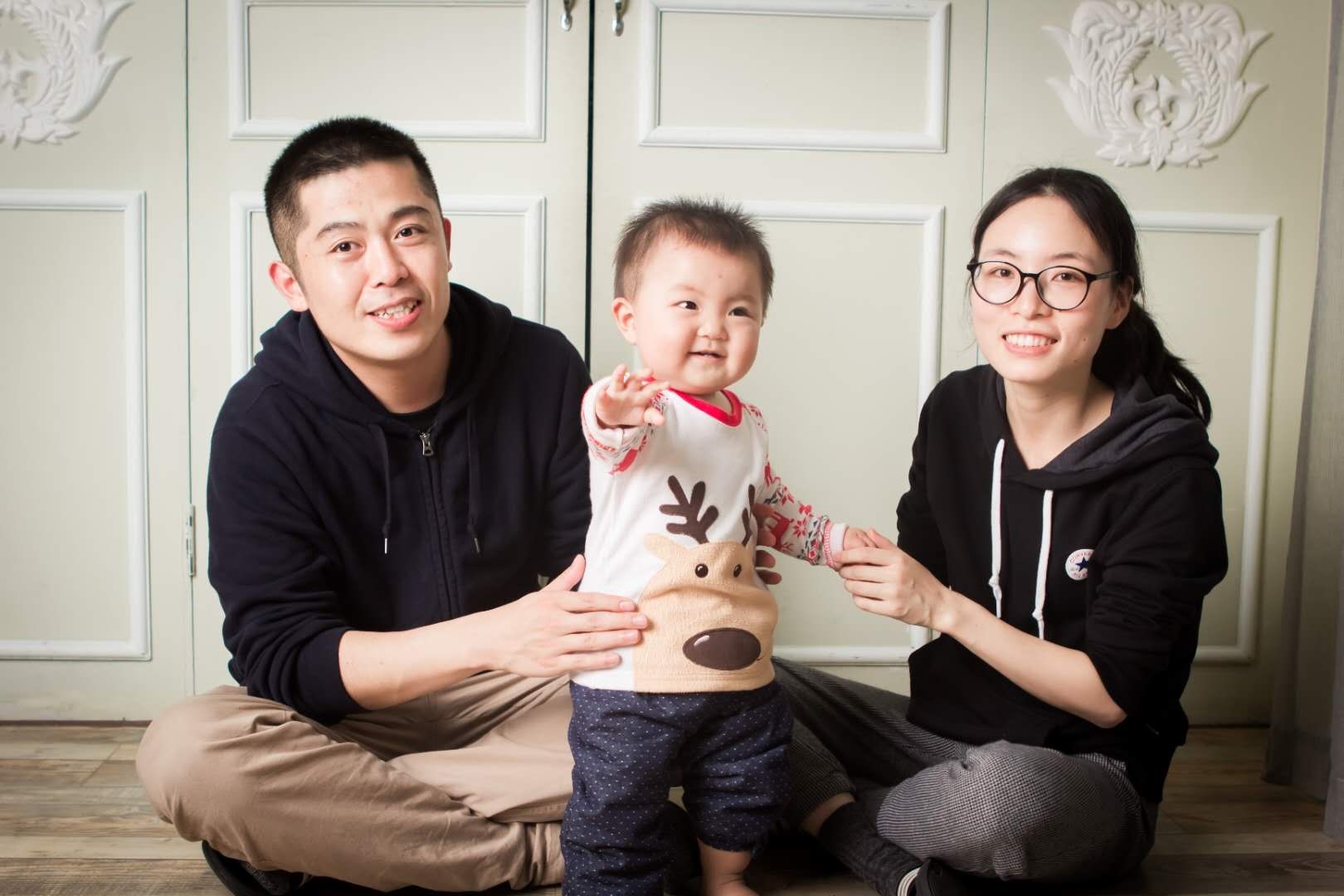 In 2010, Qiu Yue, who had just graduated, came to Ningbo BeiLun Painting Factory as an intern. During this time, Zhong Quan was a quality inspector at the factory and after working together for some time, the two young people formed a relationship.
During the worst days of the pandemic, Qiu Yue was an inspiration to those working around her. She led her team to react quickly and took it on herself to act as 'data processor' for the company, providing data protection for the more than 3,000 workers at the Hangzhou Bay facility – a true act of selflessness.
Qiu Yue once asked her husband Zhong Quan if he could restart life whether he would still make the same choices. He answered by telling her simply "No", the life he is living is more precious than he could ever ask for.
An engineers' love story – Qin Feng & Wei Shu Yue from Powertrain Research Institute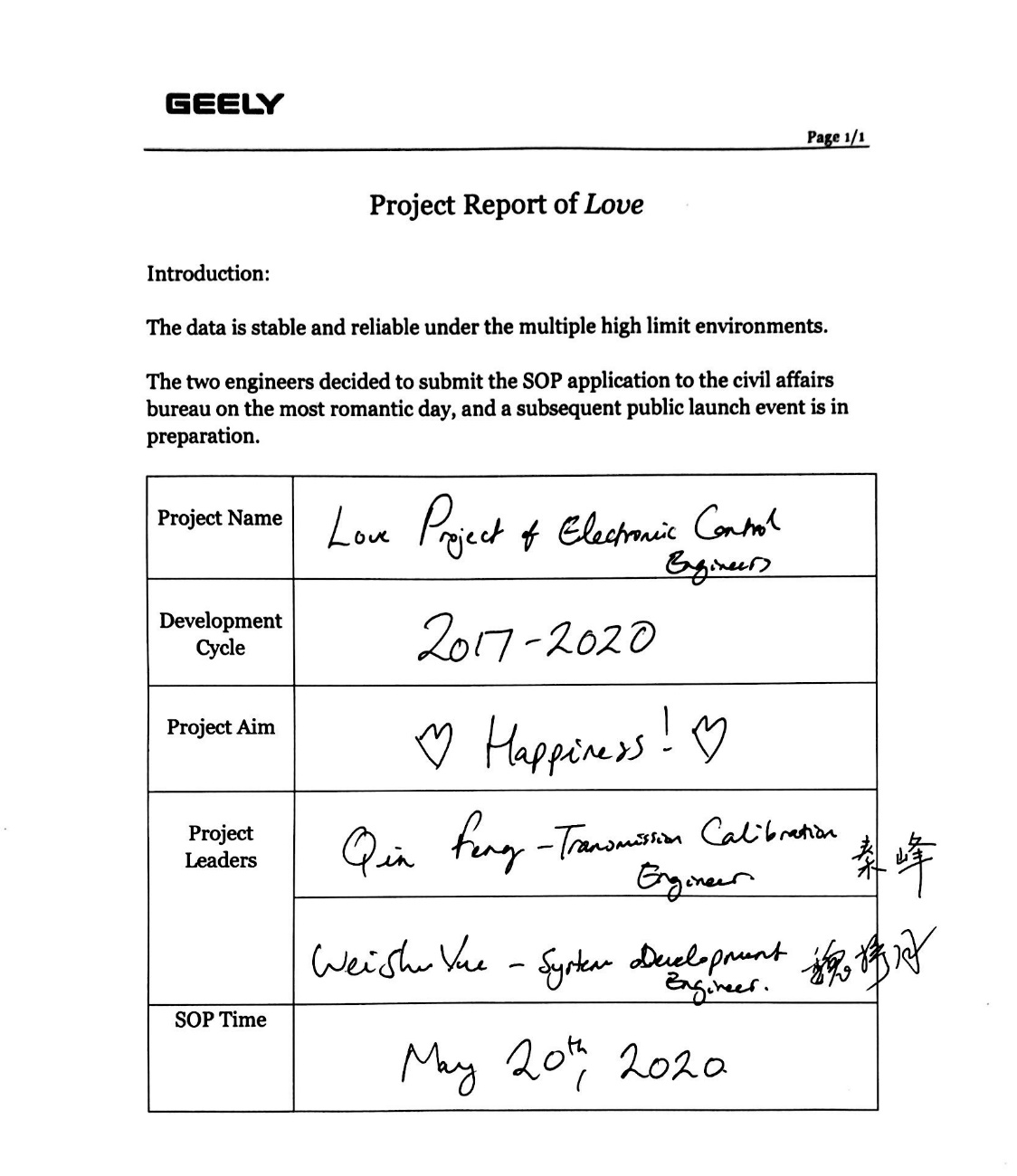 Three years ago, two aspiring young graduates took their first jobs at Geely. Little did they know, fate would soon bring them together.
During their younger years, they worked on projects together and helped each other to grow, at times replacing sweet talk for technical exchanges and normal lovers' tiffs for debates. Two people, a calibration engineer and a software engineer, growing closer through Geely.
Bringing up a 'Geely baby' – Zhao Lan Zhi & Ding Zhi Fen
In the Summer, 2004, it was Zhao Lan Zhi's first day at Geely.
Suddenly, she heard a voice say "Hey, do you need any help?"
As she looked up, her heart pounded as she looked upon the face of this handsome young man. Little did she know that this man would become her husband.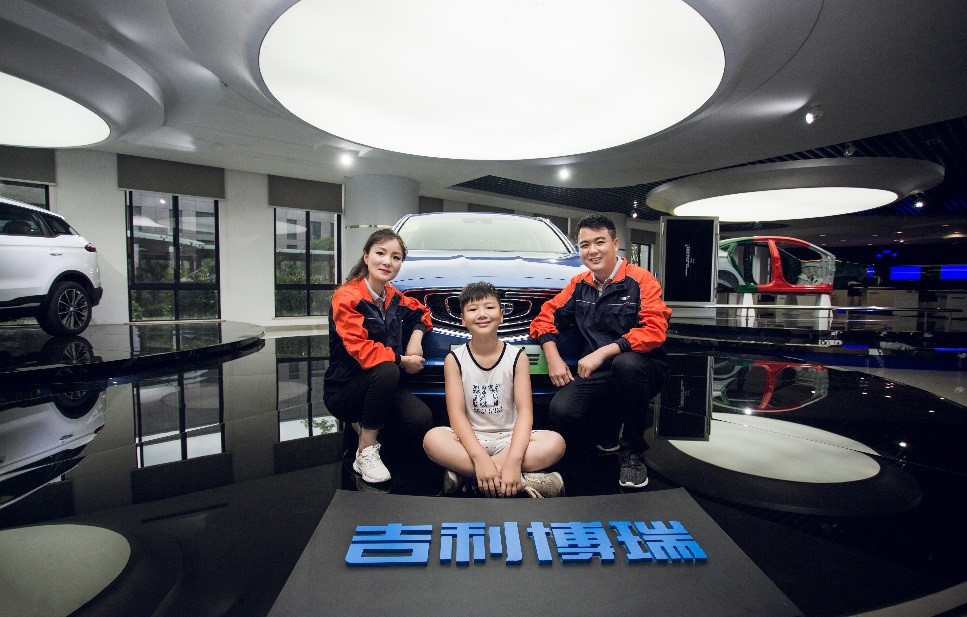 They became a 'Geely Couple', not only great work partners but also in the roles of loving husband and wife. Three years after meeting, the two of them became parents. Their son has expressed a desire to follow in his parent's footsteps and wants to join Geely when he is old enough.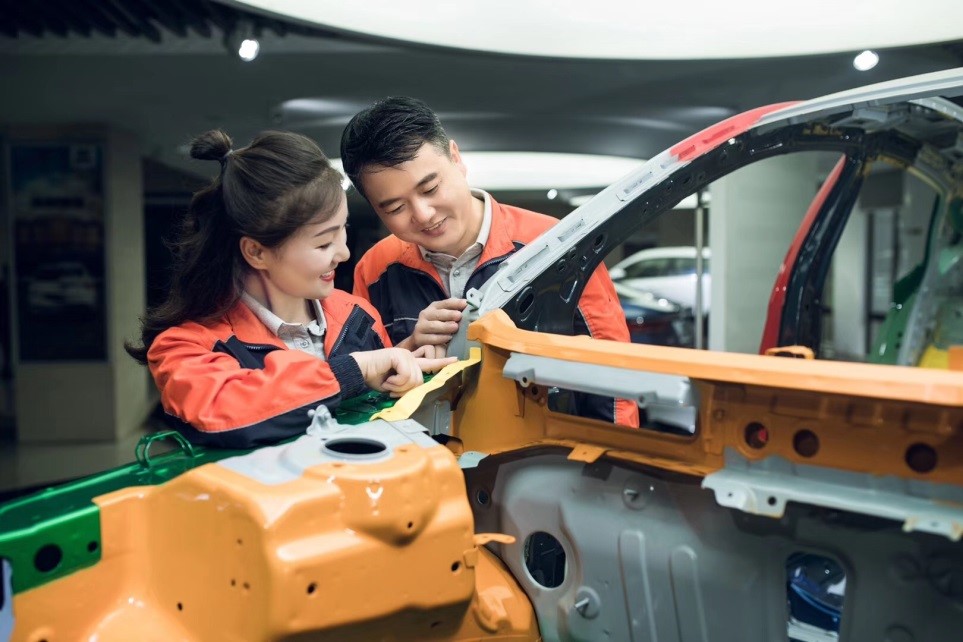 20 years of companionship – Wang Zhao Jun & Bao Jian Ping
Group Dorm
In 2001, Geely began recruitment of hundreds of graduates from universities across the country. Wang Zhao Jun was one of them. At that time, Bao Jian Ping was an archivist in the technology department. During the day, they were busy at their posts, and even at night, Wang often worked until the early hours on trial productions, research and development, and the matching of new products.
Thinking back to that time, Wang Zhao Jun smiles shyly: "I just felt that she was such a considerate girl. In fact, I don't think I was a caring boyfriend. All I cared about was the chassis data and the content of the trial-productions."
An entire family in a single room
On April 2006. The Geely Jin Gang was put into production and in June, the couple got their marriage license. Following the birth of their first son, Bao was transferred to Lu Qiao facilities where the family could be together. From then on, their single small room became a love nest.
Their room was small but neat and was divided into parts: the activity area where their son learnt to walk; the work area where Wang studied; and a cooking area where Bao would make meals for the family. A 20m² room that was packed with warmth and love.
Our Geely home
In 2010, with a new life on the way, the prospect of becoming a family of four was on the horizon and the already crowded room wouldn't be able to provide the additional space required. At this moment, the houses Geely had built for its employees were completed and ready. As he acquired one for his family, Wang told everyone it was a gift from Geely to his baby.
Before the arrival of their second child, they were able to move into their spacious new Geely home.