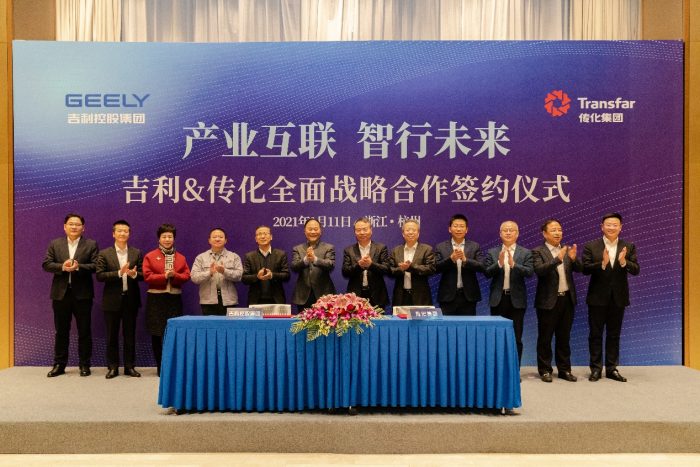 2021 January 11, Hangzhou. Zhejiang Geely Holding Group (Geely Holding) and Transfar Group (Transfar) have signed a strategic cooperation agreement. The two parties have agreed to cooperate in seven areas including automotive logistics supply chain, new energy commercial vehicle hailing/sharing platform, infrastructure development, sustainable energy management, financial technology, new energy logistics industry fund, and high-level investment.
Geely Holding Group CEO Li Donghui said:
"The cooperation between Geely Holding Group and Transfar Group has great strategic significance. The strong alliance between Geely and Transfar will accelerate the transformation of the automotive and logistics industry. Connecting innovative vehicle hailing/sharing platforms, charging network, and financial technology with infrastructure development and the entire industrial value chain will help both our enterprises stand at the commanding heights of our industries in the future."
Executive President of Transfar Group, Wu Jianhua said
"Geely and Transfar, as representatives of the manufacturing and logistics services sectors,  have always taken industrial development as our main focus. We've spent years building up our industrial operations and new businesses through time-tested development strategies and collaborative partnerships. Geely and Transfar will complement each others strengths and together will jointly develop our industrial value chain and supply chain."
Through this partnership, Geely Holding and Transfar will promote the joint development of an industrial internet platform which extends throughout the industrial ecology and will help companies reduce costs, increase efficiency, expand markets, and improve resource allocation.
Geely Holding subsidiary Geely New Energy Commercial Vehicle Group will utilize its strengths to help develop a sustainable green industrial logistics ecosystem. Tranfar will become a strategic partner to Geely New Energy Commercial Vehicle Group and assist it in positioning the Group as an "intelligent green logistics technology integrated service provider."
Transfar Zhilian, a subsidiary of Transfar Group, will be responsible for leading the cooperative partnership in the areas of automobile logistics supply chain, new energy commercial vehicle hailing/sharing platform, and infrastructure development. Transfar Zhilian has provided their services to companies in more than 40 industries, including FMCG, automotive, home appliances, chemicals, energy, and tech, helping them reduce costs and increase efficiency.