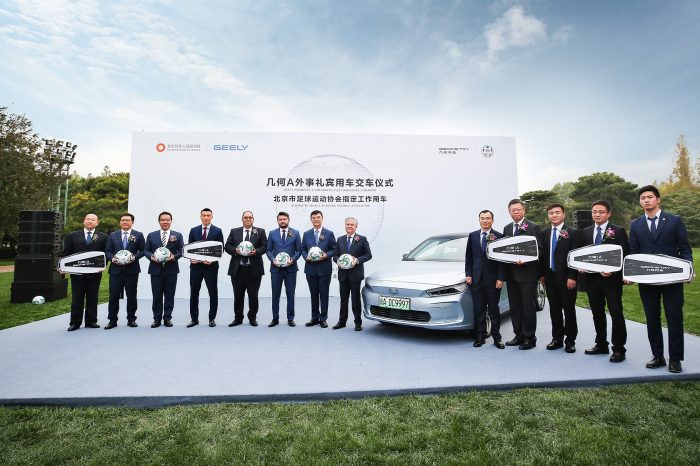 2019 October 22, Beijing. Geely Auto Group today officially handed over a fleet of pure electric Geometry vehicles to China's Ministry of Foreign Affairs Beijing Diplomatic Service Bureau and to the Chinese Football Association at a joint event in Beijing held earlier today.
Environmental protection and sustainable development have become a globally critical issue and has become a core part of China's national development strategy.
In 2015, Geely delivered its first vehicles to the Beijing Diplomatic Service Bureau to be used as official diplomatic concierge vehicles. Since then, a total of 205 Geely vehicles have been delivered for concierge usage including the Emgrand GT, Emgrand EV, Bo Rui GE, and now Geometry A. The models delivered include traditional fuel, mild hybrid, plug-in hybrid, and pure electric models. The Geometry range of vehicles was introduced in April 2019 to satisfy global demand for long range intelligent pure electric vehicles. With a combined pure electric range of 500km (NEDC), the Geometry A model is highly suited to urban use.
Chen Chuang, deputy director of Beijing Diplomatic Service Bureau, said at the handover ceremony, "After five years of use, we have truly felt Geely Auto's constantly improving quality, design, and technology. The vehicles have been widely praised by our bureau's users who are mainly visiting global dignitaries. The introduction of the Geometry range of electric vehicles showcases our commitment to providing green transport solutions to all of our guests, both foreign and domestic."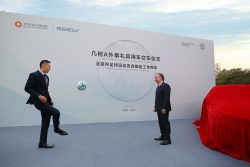 Geely Auto has been a great supporter of sports in China. Since 2014, Geely Auto has been in a strategic partnership with China's national swim team. In April of this year, Geely became the official mobility service provider of the 19th Asian Games in Hangzhou, the first Chinese car brand to sponsor an Olympic event.
Speaking at the event, President of Geely Holding Group, CEO and President of Geely Auto Group, Mr. An Conghui said "The global automotive manufacturing industry is undergoing profound changes and the Chinese auto industry must enter a new stage of high-quality development led by smart green technologies. Geely will keep cultivating its strategic strengths, continuously increase its investment in innovation, stay committed to open cooperation, and effectively work with other to change the global automotive landscape. For five consecutive years, Geely models have been selected as foreign concierge vehicles. This is one of the ways Geely is bringing Chinese brands to the world stage. We will continue to offer users smart, green, personalized, and high-quality mobility experiences while lifting the Chinese automotive industry and Chinese brands up the global value chain."