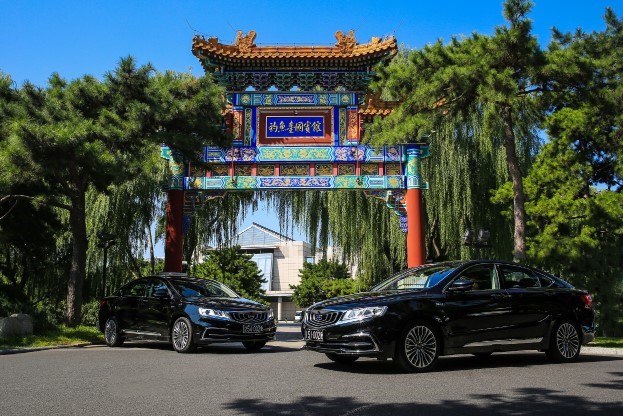 50 new Geely GC9 delivered for foreign affairs use
7 September 2017, Beijing, China. Geely Auto (Geely) announced today that China's Ministry of Foreign Affairs Service Bureau would continue to use Geely's flagship sedan, the Geely GC9, within its diplomatic fleet. Fifty new Geely GC9s were delivered to the Beijing Diplomatic Service Bureau at a handover ceremony to be used as part of the diplomatic fleet within China and will be used in state visits and to collect state guests, diplomats and other dignitaries during their visits to China. The ceremony was attended by Beijing Diplomatic Service Bureau Director General Yuan Weimin and Zhejiang Geely Holding Group President, Geely Auto President and CEO An Conghui as representatives of their respective parties. The Uruguay Ambassador to China, Estonia Ambassador to China, and other envoys who will use the new Geely GC9 sedans also attended the handover ceremony.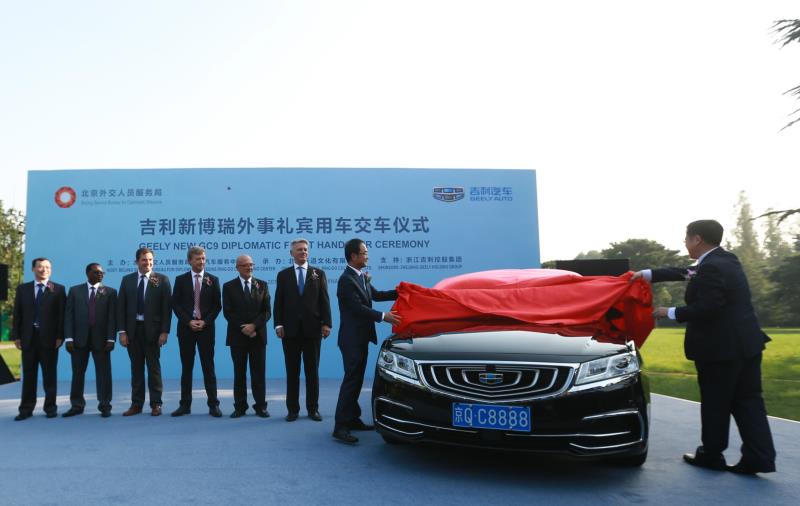 Since 2012, the Chinese government has enacted a series of official car policy reforms and actively promoted the use of Chinese brands for state use. With these reforms in place, Geely GC9 was selected by the Ministry of Foreign Affairs Diplomatic Service Bureau to be used as part of their diplomatic fleet in China. On March 20, 2015, the first batch of 20 Geely GC9 official diplomatic vehicles were delivered, marking a major milestone for the promotion of Chinese automotive brands.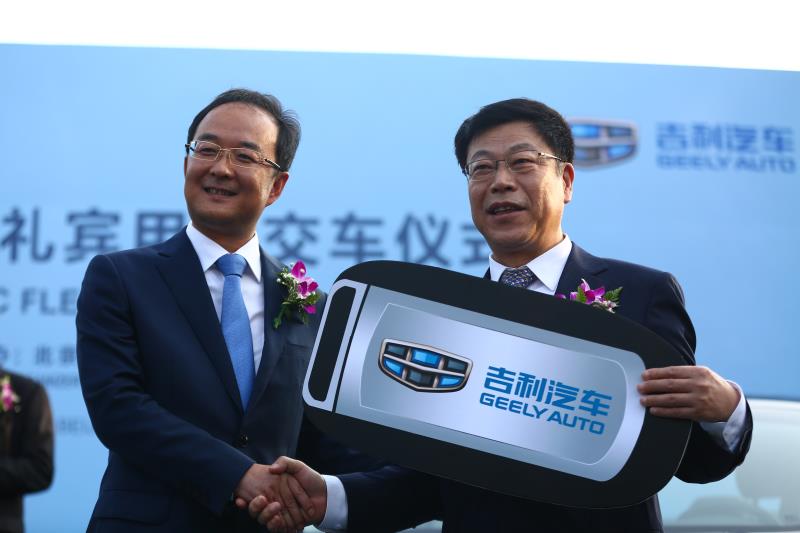 Geely's GC9 has become a sales leader among Chinese brands in the large sedan market segment, earning the trust and support of over 110,000 owners since entering the market two years ago. The model's success was partly due to its status as a national diplomatic fleet vehicle as well as its leading options package. The Geely GC9 has set the benchmark for Chinese brands in the D-segment, often outselling its international rivals. It has also been selected as the official car for various international events held in China such as the G20 Hangzhou held in September 2017 and has helped to change the perception of "Made in China".
Geely GC9 is the group's first flagship sedan in their 3.0 generation product range. The overall design combines global aesthetics with Chinese cultural and historical elements giving the vehicle an elegant and dynamic feel. The Geely GC9 is equipped with premium intelligent drive, safety, and entertainment systems creating a refined driving experience, while giving occupant peace of mind with a full range of active and passive safety measures.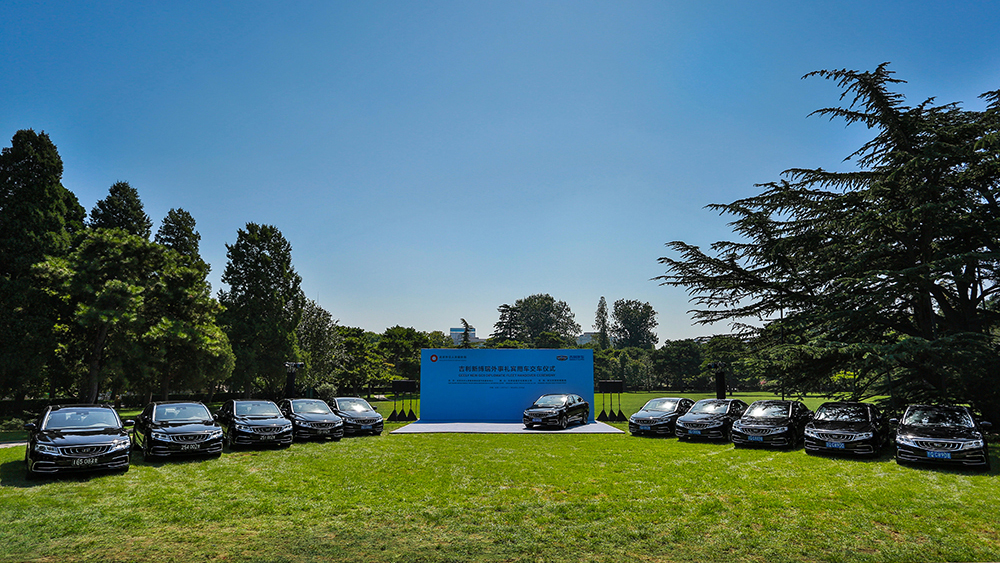 Beijing Diplomatic Service Bureau Director General, Yuan Weimin said: "Two years ago, we selected Geely GC9 after careful consideration to be our diplomatic fleet vehicle. Since then, they have completed their tasks without fault, all the while showcasing Geely's passion for quality and technology. The performance and reliability of the vehicles has improved our reputation and quality of service. Our experience with the previous Geely GC9 model has given us confidence in the strength of the new Geely GC9. The Diplomatic Service Bureau has once again decided to purchase Geely's GC9 and use them in our diplomatic fleet, we look forward to an even better experience with the new model."
As the flagship model for Geely's 3.0 generation lineup, the Geely GC9 comes with equipped with the latest from Geely's iNTEC driver technologies. For the 2018 model year, the Geely GC9 has received a substantial facelift, improved handling, a new powertrain, and an optimized NVH performance. These enhancements has resulted in a more refined, comfortable, and intelligent driving experience, raising the benchmark on quality for Chinese brands once again.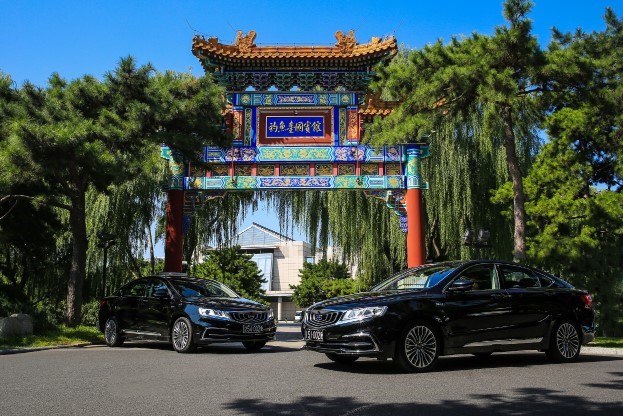 Uruguay Ambassador to China Fernando Lugris said: "We had previously chosen the Geely GC9 as our official car. The model's Chinese design, large interior, and intelligent driving technology left us with a very good impression. So today, we will once again choose the new Geely GC9 as our official car. We believe the new Geely GC9 is a good representative of China's automotive manufacturing strength and style."
Zhejiang Geely Holding Group President, Geely Auto Group President and CEO An Conghui said: "Geely Auto has been in the automotive industry for over 20 years and throughout that time we have been committed to the policy of developing through technology and innovation in line with market demand. While the rise of Chinese brands is inevitable with the "Made in China 2025" policy, we hope that Chinese brands will use their newfound influence to enhance the appeal of Chinese culture. Looking into the future, we will implement further supply-side structural reform and deliver even higher quality products and services that will meet the increasingly mature market demand."