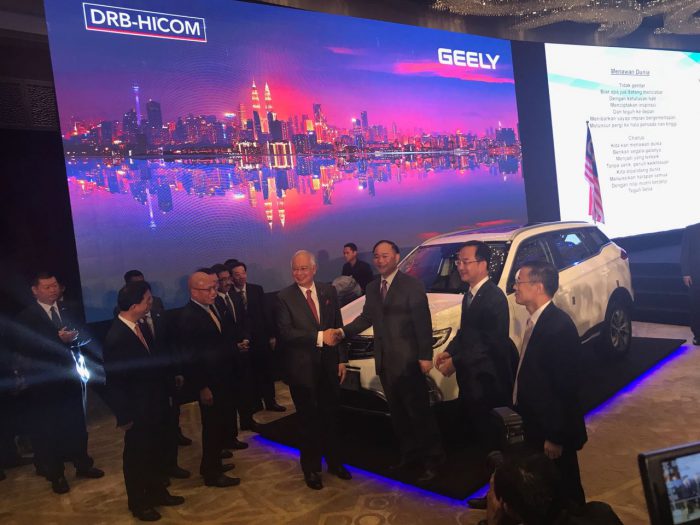 Transformative acquisition gives Geely Holding a 49.9% stake in PROTON and a 51% stake in Lotus
23 June 2017, Kuala Lumpur, Malaysia. Zhejiang Geely Holding Group ("ZGH" or "Geely Holding") announced that it has signed a final contract with DRB-HICOM Berhad ("DRB-HICOM") of Malaysia, acquiring 49.9% shares of DRB's PROTON and 51% shares of luxury sports car brand Lotus.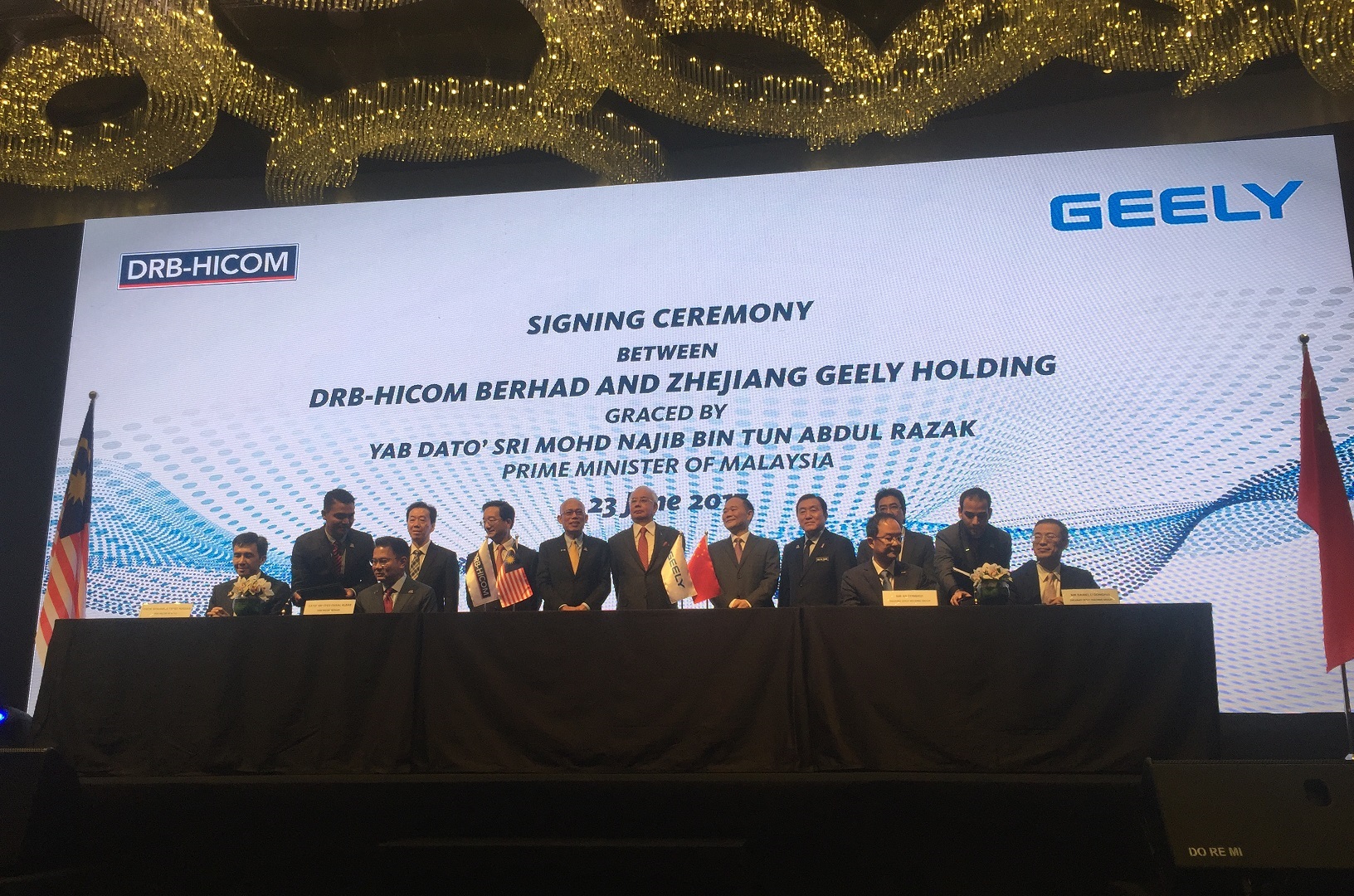 Signing of the final agreement
Malaysian Prime Minister Dato' Sri Mohd Najib Tun Abdul Razak, Chinese Ambassador to Malaysia Huang Huikang, Minister of Finance II Datuk Seri Johari Bin Abdul Ghani, Second Minister of International Trade Dato' Seri Ong Ka Chuan, Prime Minister's Special Envoy to China Tan Sri Ong Ka Ting, Chairman of Zhejiang Geely Holding Group Li Shufu, President of Zhejiang Geely Holding Group An Conghui, and Managing Director of DRB-HICOM Dato' Sri Syed Faisal all witnessed the signing.
The acquisition is expected to be completed in three months, after which ZGH will form a core management team recruited from a pool of global candidates to ensure the smooth operation of PROTON.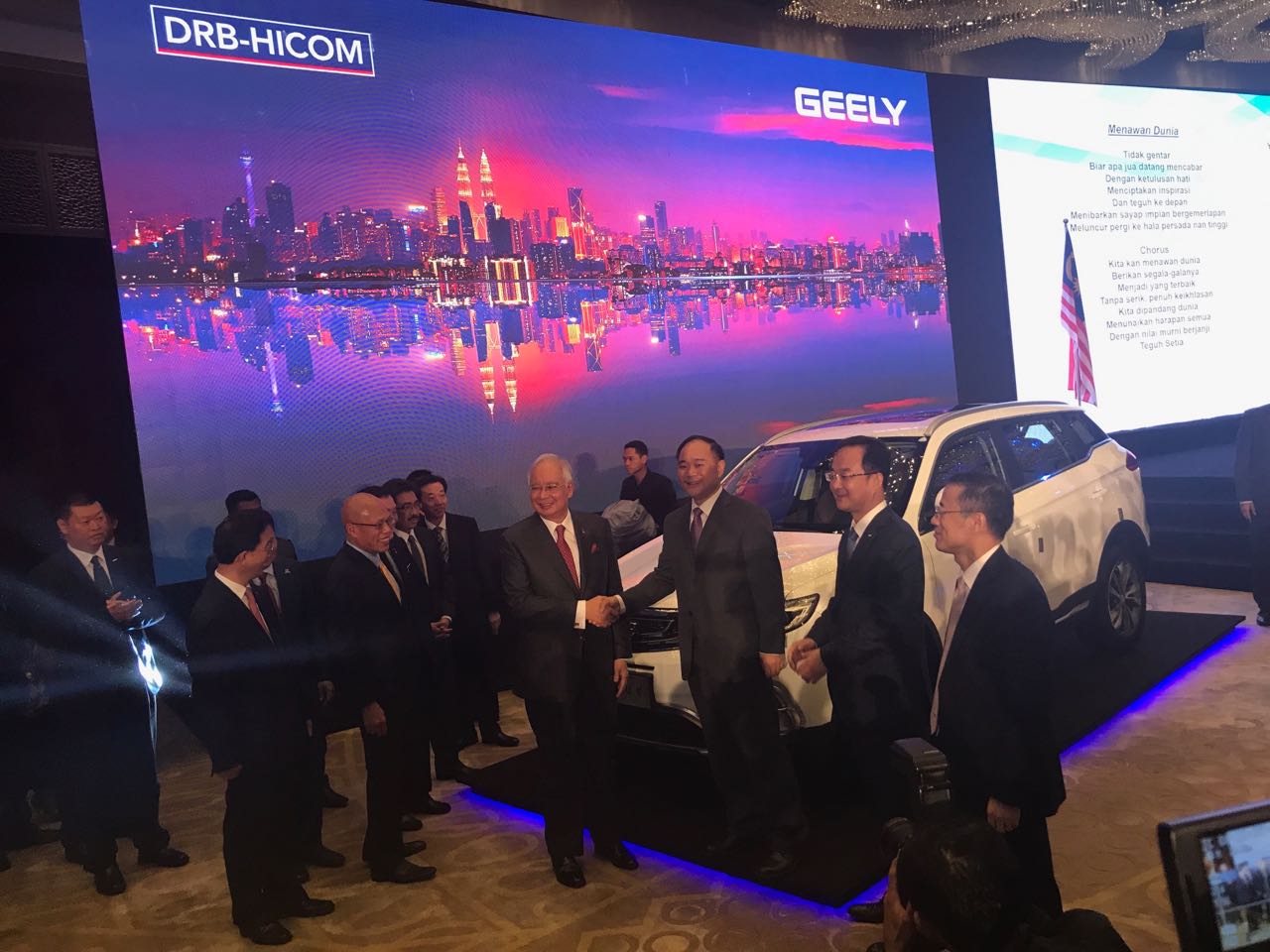 Boyue SUV unveiled by the leaders of Geely and DRB
PROTON, established in 1983, is a wholly-owned subsidiary of DRB, Malaysia's largest automobile manufacturer, and the only full-fledged OEM car manufacturer in Southeast Asia. PROTON has operations in the UK, the Middle East, and across Southeast Asia and Australia. The Lotus car – with its British heritage and its unrivalled engineering expertise – has been a world renowned brand, recognized for its innovation and performance. Moving forward, ZGH will make every effort to enhance the market competitiveness of PROTON and Lotus and to foster the revival of the two brands.
Li Shufu, Chairman of Zhejiang Geely Holding Group, said: "As an iconic national brand, PROTON epitomizes the spirit of Malaysia. Our partnership with DRB-HICOM will enable PROTON to become the industry leader in Malaysia and a top three brand in Southeast Asia. We will also continue to expand Lotus' product portfolio and increase production to further enhance its brand. Furthermore, the deep regional knowledge we gain from PROTON and Lotus through this transformative partnership, coupled with our technological expertise and leadership in innovation, opens the door for ZGH to become a major player in the ASEAN market and will help us reach our sales target of three million units by 2020. We will work together to make the most of our respective strengths to ensure a bright and sustainable future for both brands based on mutual respect and trust."
Managing Director of DRB-HICOM, Dato' Sri Syed Faisal said: "ZGH which also owns Sweden's Volvo Cars, London Taxi Company, LYNK & CO and the Geely Auto portfolio of car brands is the right partner for PROTON. Their success with Volvo and London Taxi Company, and of course with their own Geely Auto brands demonstrates their capabilities both as a bonafide carmaker and as a partner. With ZGH making PROTON their right hand-drive hub for the ASEAN region, PROTON can now target the immense ASEAN passenger car market for both our existing models and Geely's models. PROTON's status as Malaysia's national car is secure, and DRB-HICOM remains a majority shareholder. PROTON will now focus their efforts with ZGH on gaining domestic market share. Taking advantage of the joint capabilities of both companies, I am positive that we will be able to impact the market positively, by coming out with products that satisfy market preferences in terms of design and quality."
About DRB-HICOM
DRB-HICOM Berhad ("DRB-HICOM") is one of Malaysia's leading conglomerates with core businesses in the Automotive, Services & Education, as well as Property sectors. With more than 90 active companies in its stable and over 59,000 employees group-wide, DRB-HICOM's aim is to continue adding value and propelling the nation's development. In the Automotive sector, DRB-HICOM is involved in the manufacturing, assembly and distribution of passenger and commercial vehicles, including the national motorcycle. In Services & Education, DRB-HICOM is involved in various businesses, including concession and financial-related services. In Property, DRB-HICOM is involved in residential and commercial developments.