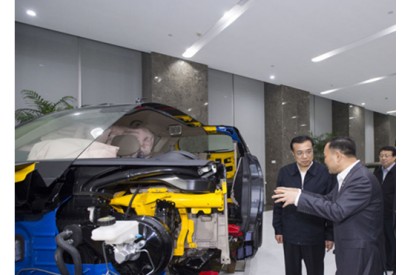 Prime Minster Impressed with Geely's Continual Investment and Improvement
Li learned more about Geely post Volvo takeover
20 November 2014, Hangzhou China. Zhejiang Geely Holding Group was visited by the Chinese Prime Minister Li Keqiang on November 20th. The prime minister had previously attended a global internet forum earlier in the day which was held in Wuzhen, and travelled to Geely's headquarters in the afternoon to learn more about how the company has developed.
Prime Minister Li was met by Zhejiang Geely Holding Group Chairman Mr. Li Shu Fu and Group CEO Mr. An Cong Hui and was shown the latest vehicles in the Geely Auto and Volvo Car Corporation range including the latest GC9 flagship sedan, Geely methanol and electric vehicles as well as Volvo's S60L Plugin hybrid sedan.
Li also toured Geely's on-site design centre where he was met by Geely's Global Design Chief, Mr, Peter Horbury, who showed the Prime Minister Geely's latest designs and the team behind the development as well as the development process from sketch, to computer design to clay model to production model.
The Prime Minister was also deeply interested in the development of Geely's core technology, and viewed Geely's previous, current and future engine range which is made up of naturally aspirated engines, small displacement turbo engines and larger direct injection engines including a new 1.8T and a 1.8L plug in hybrid system.
Safety has always been a core focus of Geely Auto, which the Prime Minster understood once Chairman Li explained the level of engineering and development which went into the development of the Geely GX9 fullsize SUV.
Before leaving Geely, Li took the time to meet with front-line employees who were eager to meet and shake hands with the Prime Minister, however before leaving Li hoped that Geely would continue to keep going forward with a strong pace of development.